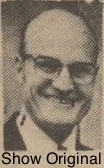 Did you know that 24 veterans of the Civil War are buried in the Provo City Cemetery?
That at least seven veterans buried in the cemetery served in periods of two wars?
That Veterans of World War I outnumber those of any other war among those interred here?
These are some of the interesting facts evident through perusal of the Veterans Memorial Park at the cemetery, now decorated for the Memorial Day weekend.
Nearly 900 white crosses are displayed in rows at the park, representing veterans of all wars buried In the Provo Cemetery. A small American Flag flies from each cross.
This is the second annual such display, the memorial having been dedicated last year. It is sponsored by Provo City and the Veterans organizations. The flags and crosses will be displayed through Monday and will be taken down early Tuesday, according to F. Orval Singleton, chairman of the Veterans Council.
An unofficial tally from the markers on the crosses at the memorial park discloses the following numbers of veterans from the various wars:
Civil War, 24; Indian Wars, 138; Spanish American War, 24; Mexican War, 5; World War I, 350; World War II, 290; Korean War, 31; and Vietnam War, 9. In addition, markers are up for 25 "peacetime" veterans.
The seven veterans noted as having served in periods of two wars: Edwin M. Peck, Mexican and Indian Ward (he possibly was a member of the Mormon Battalion); Stanley G. Vincent, World War I and Korean War; Theodore D. Schofield and Lynn L. Mortimore, World War II and Korean War; and Hollis M. Twelves, Walter C. Hopkins, and James H. Haws, World War I and II.
The 24 veterans listed for the Civil War period are Gust Anderson, George W. Berry, Henry A. Barton, Maurice J. Barrett, John A. Bray, Edward Brown, John W. Brown, J.R. Wilkens, David O. Waid, Alfred E. Saxey, Eben Pierce, James B. Peterson, Ernest Osterloh, William H. Otterback, James B. Pemberton, A.F. Moosman, Murray M. Drake, Edmund L. Curtis, George H. Chappell. and Luther V. Chapman.
Many of the veterans honored with crosses and flags were killed in action. However, the park honors all veterans of all wars, whether- or not casualties were involved.
The idea for the massed-flag veterans memorial at the Provo Cemetery developed after Burl S. Peterson, Provo cemetery superintendent learned of a similar memorial at Bountiful through Hugh Wigman, Bountiful cemetery superintendent at a Municipal league meeting in 1969.
Mr. Peterson conferred with Mr. Singleton, chairman of the Veterans Council in Provo and investigations were begun that led to establishment of the memorial through the joint efforts and cooperation of the Veterans Council and the Provo City Commission.