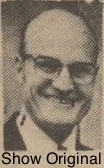 Provo has nine living past-mayors.
We don't know whether this is any sort of record. It's quite a list, nevertheless, and it extent over 40 years.
In all, 36 men have served as mayor of Provo since the city was chartered in 1851-including the incumbent Mayor Jim Ferguson.
The nine living former mayors are:
-Maurice Harding, 1941-45. Mr. Harding, a young lawyer at the time, was appointed to finish out the term of Mayor Mark Anderson when the latter was named state fish and game director. Then he was elected to two two-year terms of his own. (Before being appointed mayor, he had been named a city commissioner to complete the term of Commissioner Jesse Haws who died.)
-George E. Collard 1948-49. Mr. Collard, the only one of the nine who doesn't live in Provo now, is a resident of Fairview, where he has extensive land holdings in the mountains to the east. At 86 (he'll be 87 Feb. 20) he's the oldest of the former mayors. He sounded much younger in a telephone interview with the Herald.
-Aura C. Hatch. 1954-56. Mr. Hatch was the last mayor to serve before Provo City switched from the city commission form of government to the council-manager system for a six-year period. The move to switch systems had begun before he was elected. He served two years of the four-year mayoralty term.
-Harold E. Van Wagenen, 1956-57. He was one of seven citizens elected city councilmen and was chosen by the group as the first mayor under the council-manager plan.
-G. Marion Hinckley, 1958. A member of the city council, Mr. Hinckley was elected mayor to succeed Mr. Van Wagenen. He resigned to run for Utah County commissioner and was elected to that body.
-Dr. Lloyd L. Cullimore, Jan. 1, 1959 to Nov. I0. 1961. Dr. Cullimore, longtime Provo physician, served longer as mayor than any of his colleagues under the manager plan.
-Dr. Ariel S. Ballif, Nov. 20., 1961 to Dec. 31, 1961. He was the last mayor under the manager system. The setup was voted out, and city changed back to the city commission plan Jan. 1, 1962.
-Verl G. Dixon, 1962-73 Mr. Dixon served three four-year terms as mayor —  longer than any other Provo mayor except Abraham O. Smoot who held the post from 1868 to 1881.
-Russell D. Grange, 1974-77. Mayor Grange, the most recent of the former mayors, served a four-year term after a tenure as a city commissioner. He was succeeded in 1978 by the incumbent, Mayor Ferguson.
The general assembly of the State of Deseret granted charters to Provo, Ogden, Manti and Parowan Jan. 18, 1851., according to research by Owen Zuro, former Herald city editor. The charters were approved by Gov. Brigham Young Feb. 6, 1851. Provision was made in the charter for a mayor, four aldermen, and nine councilors.
The initial election was held on the first Monday in April, 1851, with Ellis Eames named Provo's first mayor.
The commission form of government was adopted in 1912 with Charles F. Decker the first mayor under that form of municipal government here.
Mayoralty terms generally were two years duration until more recent times when they were changed to four years. Mark Anderson was elected to three consecutive terms beginning in 1936 and another term in 1946-47. Benjamin K. Bullock also appears to have been elected for three consecutive terms in the 1850s, and came back to serve another year a few year later.
Mayor Harding, later Fourth District Judge for many years, served during the World War II period. . . and during construction and early operation of Geneva Steel Plant. It was a momentous era which involved intensive city planning and working with builders and government officials in laying solid foundations for growth. The city purchased Donnan's property in Provo Canyon, giving it access to about 13 second feet of good spring water.
Asked his opinion of the "Seventies," he said he felt this was a decade of progress but with many problems such as inflation. He sees avoiding war a prime challenge of the "Eighties"; otherwise he feels America has the resources, education, and know-how to cope with the uncertainties. He is opposed to massive distribution of federal monies to units of local government, which should exercise more independence in its programs and projects.
Mr. Collard remembers widening and rebuilding West Center as one of the projects of his administration. After his tenure as mayor he served a term on the city council during the council-manager era. (He feels the commission system is the better form.)
Mr. Collard said he and his family loved Provo. He viewed the Seventies as reasonably good years but sees "lots of trouble spots" in the world in the Eighties.
Mr. Hatch also has deep concerns about world events in the Eighties. He spoke of the prosperity of the Seventies but deplored the inflation level and cited the problem of disparagement in salary levels today a generation ago. Purchase of the Thomas Springs property in South Fork was one of the highlights of his mayoralty administration.
Mr. Van Wagenen spoke of annexations – expanding Provo's boundaries, thus widening the tax base – as one of the accomplishments of his tenure as mayor. He feels me of the pitfalls in government is vesting too much power in a few individuals and likes a council-manager format for city government. He stresses the need, of course, to elect the "right people." Mr. Van Wagenen is concerned about gathering "war clouds" on the international scene, and too much selfishness at various government levels. "We need to think more of serving . . . and of what's best for mankind and not for 'me.'"
Mr. Hinckley was in the East at the time this article was prepared and couldn't be interviewed. He is one of those men who has served his church and community continually.
Dr. Cullimore was a great mayor for getting people involved in their community. In fact he carried the same philosophy on a national and international basis, serving on the board for the "People-to-People" program and making two trips overseas at his own expense as a member of the international congress of local authorities. His administration was heavily-involved in zoning and planning and in capital improvements. He feels President Carter has been positive and Christian in his approach to difficult world problems.
Dr. Ballif, elected to the city council in 1958, wound up his service with a brief period as mayor. He is convinced that such a system, which separates legislative and administrative duties and features a strong administrator, is a superior pattern for cities and that Provo may sometime return to it. In national and world affairs, Dr. BallIf feels this is a time for statesmanship and that Congress should continue to back the President in his approach to trying international problems.
Mr. Dixon's tenure as mayor featured much building and growth. The Provo City Center, Eldred Center, Tanner and Gillespie Power Substations, and a water reservoir were built; some deep wells were drilled, and the boat harbor was transferred to the State Parks System. Much effort went into developing new industry, revitalizing the downtown area, and "perpetuating the good things in the city." Mr. Dixon had led the drive to return the city commission system and believes "that good leaders and good dependable employees make good government."
Mr. Grange also presided over a period of growth that included the business section project which strengthened the sales tax base, the first 60 units of housing for the elderly, the water supply, a new swimming pool at Provo High as a joint city-school project, industrial park development, and a new sewage treatment facility "as modern as any in the country."
Roll of Provo Mayors
Ellis Eames, 1851-52
Evan M. Greene, 1853-54
Benjamin K. Bullock, 1855-60
Ebenezer Hanks, appointed and resigned in 1861
Andrew H. Scott, 1861-62
Isaac Bullock, appointed and resigned and term filled by Benjamin K. Bullock in 1863
William Miller, 1864-67
Abraham O. Smoot, 1868-1881
Wilson H. Dusenberry, 1882-89
John E. Booth, 1890-91
Warren N. Dusenberry, 1892-93
Lafayette Holbrook, 1894-97
S. S. Jones, 1898-99
Thomas N. Taylor, 1900-1903
William M. Roylance, 1904-05
Joseph H. Frisby, 1906-07
Charles F. Decker, 1908-09; 1912-15
William H. Ray, 1910-11
James E. Daniels, 1916-17
LeRoy Dixon, 1918-21
O. K. Hansen, 1922-27
Alma Van Wagenen, 1928-29
Jesse N. Ellertsen, 1930-33
A. O. Smoot, 1934-35
Mark Anderson, 1936-41; 1946-47
Maurice Harding, 1941-45
George E. Collard, 1948-49
William Love, 1950-53
Aura C. Hatch, 1954-55
Harold E. Van Wagenen, 1956-57
G. Marion Hinckley, 1958
Dr. Lloyd L. Cullimore, Jan. 1, 1959-Nov. 20, 1961.
Dr. Ariel S. Ballif, Nov.20, 1961 to Dec. 31, 1961
Verl G. Dixon, 1962-1973
Russell D. Grange, 1974-77
James Ferguson, 1978-(in third year of four-year term)