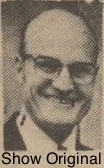 Old-timers who reminisce about Americas first "golden era" of boxing invariably cite the exploits of Jack Dempsey, who ruled the heavyweight roost from 1919 to 1926.
Dempsey, the "Manassa Mauler," built his own legend in the fistic world, rising from obscurity to national prominence. Today he lives quietly with his wife Deanna in New York after several decades in or near the public spotlight.
In a telephone interview with the Dempseys this week, it became apparent that Jack, at 84, has outlived virtually all of his close friends of fistiana in the colorful twenties.
Gone, for example, are the hulking Jess Willard from whom Dempsey won the championship; Georges Carpentier, the dapper French challenger who, with Dempsey, drew boxing's first million-dollar gate and Gene Tunney, who won the title from Jack in 1926 and repeated the victory in 1927 in the historic "long count" fight in Chicago.
Interestingly, Dempsey became a pal to many of the boxers he fought. Like Luis Angel Firpo, "the Wild Bull of the Pampas" whom Jack llattemd after being knocked from the ring himself. In later years Firpo hosted Dempsey in his home town of Rosario, Argentina and invited the whole community to a party for his guest.
Dempsey and Tunney developed an especially-warm friendship in later years. In fact, at Genes invitation, Jack and Deanna campaigned for Tunney's son, John V. when he was elected a U. S. congressman from California. When Gene Tunney was hospitalized before his death Nov 7, 1978, a concerned Dempsey kept in touch with him.
Beyond Dempsey's fistic explolts, be was a film personality, promotor, popular referee after his boxing years; and a familiar figure at the Jack Dempsey Restaurant on Broadway.
In a controversy at the close of World War I, the new champion was charged with being a "slacker" for accepting deferment from the draft to support his parents and family. But Dempsey was cleared in a trial and it was brought out that he had donated substantially to the Red Cross and given benefit fights for Navy relief.
In World War II, Dempsey sought to enlist as a private in the Army, but was rejected because at 45 he was over-age. The Coast Guard, with different rules, made him a lieutenant and utilised his talents in physical fitness and war bond drives.
Jack collaborated with his stepdaughter Barbara Piattelli Dunpsey to write his life story, a fascinating volume entitled "Dempsey" published by Harper & Row, copyright 1977.
The book, used as a reference in preparing this article, focuses on many of the colorful personalities with whom Dempsey was associated, including: Tex Rickard, super entrepreneur who promoted boxing to its first great popularity; Dempsey's redoubtable but controversial manager, Doc Kurns; Damon Runyon. Paul Gallico and Gene Fowler, Journalists; Babe Ruth of baseball stardom; actors Ruldoph Valentino and Douglas Fairbanks; and Dempsey's four glamorous wives.
Dempsey was born June 24, 1895 in Manassa, Colo. to Hyrum and Mary Celia Smoot Dempsey, who moved to Colorado as converts to the Mormon Church from Logan County, W. Va. The ninth of 13 children, be was christened William Harrison after the 9th president of the United States.
The family moved in Montrose, Colo., and later to Provo where the Dempseys settled on a 120 acre Lakeview farm. Dempsey graduated from the eighth grade, then set about working at odd jobs to help with the family budget.
His big brother Bernie was a prizefighter of local note. He taught "Harry (as Dempsey was known in the family) some "tricks of the trade." A younger brother Johnny also was a boxer. The three converted an old chicken coop into a gym.
Dempsey fought his early fights in Provo and in Salt Lake City, where the family eventually moved. He used the ring name "Kid Blackie" for a time. Initially he fought for a few bucks per bout (when he was paid at all) but fared a little better when he worked in the mines and fought in mining camps of Utah, Nevada and Colorado.
Times were tough and money scarce. A fighter had to travel and Dempsey "rode the rods" of freight trains on many occasions. It was risky hut cheap transportation.
Sometimes it was difficult to find opponents. During a Colorado visit Dempsey "got fights" by walking into a saloon and announcing with what he hoped was the grand eloquence of the great John L. Sullivan: "I can't sing and l can't dance but I'll lick anyone in the house."
"Harry" Dempsey and "Kid Blackie" became Jack Dunpsey when the aspiring young pug filled in for brother Bernie in one of the latter's fights.
"Bernie used the fighting name, Jack, and when substituted I had to take over the name." he said. "It originally belonged to the great Irish old-time middleweight known as Jack Dempsey the Nonpareil (the unequaled), who died in 1895, the year I was born."
In Goldfleld, Nev., Jack lost a decision to Johnny Sunderberg but received his biggest purse to date, $100. He drew with Sunderberg in a rematch at Tonapah and received $150.
Clayton Jenkins, former Provo Chamber of Commerce manager, recalls attending a fight at the old Mozart Hall in Provo in 1916 when Dempsey "annihilated" a fighter billed as "Young Ketchel."
Among Dempsey's good friends in the Provo area during that period were K. E. (Bob) Bullock, Dick Boshard, F. Orval Singleton, and Larnie Christensen. all deceased now.
Dempsey finally headed for New York to seek his fortune, with a few bucks in his pocket and some "wilted, well-fingered clippings that told of my 16 knockouts." Of the clippings, Jack added: "They didn't, of course, tell of the times I fought for nothing, of my disappointments, and of the times I buried my head in my pillow at night and beat it with my fists out of exasperation."
In New York and in his travels hack and forth, Dempsey had his lumps – loneliness, lack of money, domestic problems, the death of his youngest brother Bruce, and just plain discouragement.
After Doc Kearns became Dempsey's manager, the two had their ups and downs but Kearns' guidance seemed to help the Utah battler to important victories. In 1918, quick knockouts over three respected opponents paved the way for a shot at the title. On July 27, Jack stopped Fred Fulton in 18 3/5 seconds; on Dec. 16 he knocked out Carl Morris in 14 seconds; and on Dec. 30 he put Gunboat Smith away in the second round.
Tex Rickard arranged for the "Manassa Mauler" (so nicknamed by writer Damon Runyon) to meet the heavyweight champion, Jess Willard July 4, 1919 in Toledo. Dempsey weighed 187 pounds; Willard 245. Willard was a 5-4 favorite.
Jack stunned the crowd by knocking Willard down seven times in the first round. Willard's seconds threw in the towel as the gong sounded for the fourth round.
Dempsey was champion at last! More honors were to come – movie and vaudeville offers. public relations appearances for cash; fame!
Jack defended his title twice in 1920. He knocked out Billie Miske in the third round, and kayoed Bill Brennan in the 12th round of a gruelling battle.
The champion and Georges Carpentier, the French military hero, drew $1,250,000 at Jersey City in 1921 – the first million-dollar gate ever. Dempsey won by a knockout in the fourth.
Unbelievably, the small town of Shelby, Mont. hosted Dempsey's next title defense July 4, 1923, straining itself to raise the Dempsey-Kearns guarantee. The champ decisioned Tommy Gibbons in 15 rounds. Gibbons fought for nothing but received a movie check.
The colorful Firpo met Dempsey that same year at the New York Polo Grounds. Dempsey floored Firpo seven times in an electrifying first round. But the Argentine wouldn't stay down. Indeed, Firpo connected with a left and a right that sent Dempsey flying through the ropes to land headfirst atop some sportswriters. Still dazed, the champ was shoved back into the ring. He won by a knockout in the second round and collected $450,000 for his 3 minutes 57 seconds of work.
The Firpo fight led to adoption of the "neutral corner" rule which was to plague Dempsey in his second fight against Gene Tunney.
On Sept. 23, 1926, after three years without a fight, Dempsey put his title on the line in a 10-round bout with Tunney, a cool, scientific boxer. Tunney won the decision and the crown.
Dempsey came back and kayoed Jack Sharkey July 21, 1927 at Yankee Stadium prelude to a rematch with Tunney.
Billed as the "Battle of the Century the September Tunney-Dempsey return bout in Chicago drew $2,658,660 – the first $2 million gate. Tunney again outpointed Dempsey, surviving the controversial seventh round when Jack floored him.
Dempsey, in the heat of battle, forgot the "neutral corner" rule and hovered over his man. The referee restarted his count after ordering Jack to the corner. This gave Gene extra seconds. He was up at "nine" and fistic fans have never stopped debating whether the "long count" cost Dempsey the victory.
Dempsey retired, tried a couple of comebacks, then refereed extensively, cashing in on his popularity.
Menke's Encyclopedia of Sports, which quotes Nat Fleischer's Ring Record Book, lists Dempsey's record at 77 total bouts, 49 knockouts, 9 decisions, l victory by foul, 7 draws, 4 decisions lost, 1 defeat by knockout. and 6 "no decision" fights. Jack fought many bouts not officially recorded, sometimes taking on more than one opponent in a single night.
Menke shows Dempsey's total earnings from boxing at $3,062,079, with $718.868 as his greatest single purse … in the first Tunney fight. In addition, Dempsey earned about $3 million as a referee, emcee, etc., Mente reported.
The Manassa Mauler's extended popularity with the fans can he explained, in part, by his willingness after his fistic career to criss-cross the country on refereeing and boxing exhibition assignments. In this he exemplified his own philosophy expressed in his book: "If a champion, past or present, doesn't mingle with the masses, then he really can't expect public acclaim for very long."
An old friend, D. Orlo Allen of Orem. may have put his finger on another secret of Dempsey's popularity: "I know Jack to be a real gentleman – not brutal as you might expect a boxer to be, but a compassionate, outgoing man who has a special knack of making friends."