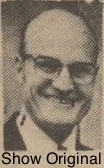 The Osmonds are "back on the road again," an intermittent way of life which in 18 years of show business has helped win "fame and fortune" for this seven-member Utah family entertainer troupe.
Traveling in the United States and to far parts of the globe has been an Osmond practice since, as child musicians, they received their first professional contract in 1962.
The four "regulars" at that time were Alan, 13; Wayne, 11; Merrill, 9; and Jay, 7 – and they're still together, of course. Donny, at 5, was getting some of the action. Baby Marie, 3 – the only girl in the family – was just being introduced to the entertainment world in which she would play a big role. Jimmy was yet to be born.
On Monday, the full troupe opened a weeklong show at the Palace in Columbus, Ohio after performing three nights in Atlantic City, NJ.
Returning next week to their homes in Provo and their production studios in Orem, they'll prepare for an extensive travel schedule while filling a variety of appointments. The itinerary now shaping up includes:
Disneyland (where the Osmonds started their professional careers) for the park's 25th anniversary; a prospective trip to England; three weeks at the Hilton in Las Vegas for Donny, Marie, and Jimmy; an April tour to cities in South Africa; and the Pacific-Far East with shows in Hawaii, New Zealand, the Philippines, Hung Kung, Taiwan, and Japan. They expect in return about July 1.
In autumn, Marie – at 20 a lady of beauty, poise, and talent – will accept a new challenge, opening her own weekly variety show NBC network. No stranger to video audiences, she was a star on the "Donny and Marie" show on ABC for 3 1/2 years and in the Osmond Family show on the same network for half a year.
One of the Osm0nds' most satisfying performances had to be the nostalgic two-night show for the hometown folks in the 23,000-seat Brigham Young University Marriott Center in Provo before the current road tour.
Osmond fans came from far and wide for a complete sellout. There were many in the stands from the Ogden area of northern Utah where the Osmond youngsters grew up and developed their early musical skills, performing at countless regional functions.
The Osmonds went all out for the Marriott Center extravaganza, embellishing their abundant vocal-instrumental-dance talents with spectacular stage effects. The family donated all proceeds to BYU.
The size of the Marriott Center crowds was impressive, but couldn't measure up to the February 1978 turnout at the Houston Astrodome in Texas. An Astrodome official confirmed that the Osmonds drew 38,559 on a Friday night: 40,676 for the Saturday matinee; and 45,738 Saturday night – a total of nearly 125,000 for three shows.
The Osmonds' climb in the glory road of "show biz" was strewn with sacrifices and discouragements prior to the breakthroughs that eventually established them as one of the great family entertainment groups – exponents of "pop rock," a "Little bit country," and a wide repertoire of ballads and popular music.
George and Olive Osmond, the parents, taught and encouraged their young performers; sold their business with faith that the youngsters would succeed; and for years, served as prime promoters, critics, managers, and tour directors.
They were not professional musicians or entrepreneurs – but they got a good education in both categories during those challenging early years. George was born in Etna, Star Valley. Wyo. His best musical talent is a fine singing voice. Olive is a native of Samaria, near Malad, Ida. and plays the piano and saxophone.
Their first two sons, Virl and Tom, have hearing impairments and went into business rather than music. Alan, oldest of the seven performing Osmonds, said: "The one thing that stands out as I review our years in show business is the personal and group discipline taught by our parents. To be successful in anything you pursue in life takes dedication, work, and a belief in what you are doing."
Marie touched on a similar aspect when she said: "Getting where we are hasn't been easy, but the journey has been much more pleasant because we traveled as a family. I couldn't have had better teachers. My brothers are, to me, the epitome of great writers, entertainers, producers, and managers. My parents are an inspiration."
In brief, the 0sm0nds' entry into the big-time started like this; After myriad local performances as a child quartet, Alan, Wayne, Merrill and Jay began in reach out. They were heavily applauded as special performers at the 1961 international barbershop quartet convention in Kansas City, Mo.
Late that year, George and Olive loaded the family in their camper and went to Pasadena where the boys did a show. There they met the celebrated Lennon Sisters, who helped them arrange an audition with Lawrence Welk. When the audition failed to come off, the disappointed family went to Disneyland to cheer themselves up.
On Main Street in Disneyland the boys, all dressed alike in the Osmond "uniform." came face in face with a barbershop quartet in straw hats and candy-stripe jackets. They listened to a few numbers. Then, according to Paul H. Dunn, in a book, "The Osmonds" (copyright 1975 by Bookcraft Publishers, Salt Lake City), the candy-stripers asked, "Hey, what do you guys do, sing or something?"
The incident led to the 0smonds' singing some quartet numbers, alternating with the Disneyland group, to the delight of a gathering crowd. Tommy Walker who did the hiring of park entertainers, was impressed. He contracted the Utahns for a three-month stint for the summer of 1962. Walt Disney himself arranged Osmond appearances in three of his TV specials.
Jay Williams., father of singer Andy Williams, heard the boys at Disneyland and encouraged Andy to sign them for a show. This led to performances through several seasons. Meantime, there was travel with Andy Williams and by themselves over the state fair circuit, guest appearances on numerous major TV shows, etc. By 1971 they had a recording contract with MGM.
Today, Osmond record sales total 80 million, according to Ronald J. Clark. public relations manager.