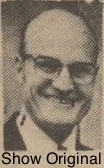 Eleven men have served as president of the Church of Jesus Christ of Latter-day Saints during its 144-year history – an average of some 13 years per president.
The tenure of Harold B. Lee, the 11th president, was less than 18 months, shortest served by any president. But in that time President Lee made a deep imprint.
His sudden death Wednesday night plunged the church into mourning and stunned friends and associates across the world.
Reaction from leaders within and outside the church reflected shock at President Lee's passing, and an outpouring of appreciation for his leadership and accomplishments.
Norman Vincent Peale, well-known American religious leader, typified comment with this statement: "A giant has fallen. I was shocked by news of his passing. I admired him tremendously. He was one of the most enlightened and creative religious leaders in the world."
President Lee was a well-known religious leader long before he ascended to the presidency July 7, 1972 following the death of the 10th president, Joseph Fielding Smith.
Indeed he had been a general authority in the Church for 32 years, following his appointment to the Council of Twelve in April 1941. He was first counselor in the First Presidency during President Smith's 2 1/2-year tenure.
Even before his appointment to the Twelve, he was recognized as an educator, businessman, church and civic leader, and public official. He was born in rural Clifton, Ida. March 22, 1899 and worked his way from that humble beginning to prominence and acclaim.
Well-known in Central Utah, he had spoken many times in the Provo Tabernacle, on the Brigham Young University Campus, and in surrounding stakes. Earlier this year he received the exemplary manhood award given by the BYU Associated Students. He held honorary degrees from three universities in Utah.
As president of the church, he demonstrated a great deal of imagination and resourcefulness in initiating new programs to stimulate activity in keeping with his theme that "activity is the soul of spirituality."
He had love and concern for all and sought to shape programs that would aid the youth, the aged, and single persons, as well as strengthen the family.
His stress on the temporal as well as the spiritual side of life undoubtedly reflected his long service in directing the church's giant welfare program.
He spoke often of his faith in the individual, in the church, and in America.
In his teachings, his spiritual strength, and lifetime of service, he leaves an example and a legacy to be cherished by those who knew him or came within his influence.