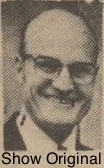 University president, lawyer, philanthropist, spokesman for Americanism and other worthy causes – these are some of the titles earned by Dr. Ernest L. Wilkinson, whose funeral services will be held Monday.
And with each title, a touch of the superlative needs to be added. As president of Brigham Young University for 20 years, he became the school's greatest builder and guided it to the forefront as the country's largest church-related institution.
As a lawyer, he propelled himself into the national spotlight by handling a case for the Ute Indians that brought the largest single judgment ever rendered against the U.S.
His financial contributions to BYU and the LDS Church are legendary, matching the indefatigable energy and leadership he exhibited in his long service to these institutions.
The case be built for the Indians in his most famous legal achievement illustrates the painstaking effort and tenacity that marked his multi-sided career. Over 16 years he put in evidence, testimony, and exhibits aggregating 34,000 pages. The Hon. Seth Richardson, who had been assistant attorney general in charge of defending Indian tribal claims against the government, testified that the amount and quality of service rendered by Dr. Wilkinson and his associates "almost staggers our imagination. I never saw anything like this in my life …. "
Dr. Wilkinson, whose life was in the best tradition of a Horatio Alger success story, was born and reared in Ogden under humble circumstances. He struggled to get his education and gradually to work his way up the ladder of success.
His courage, foresight, and dedication to progress can be illustrated in his determination that BYU become a school of destiny; in his successful appeals to the Board of Trustees for funds to build scores of major buildings that have made the sprawling 'Y' campus one of the most modern and useful in America; and in the manner in which he stood up for the university standards and policies.
Dr. Wilkinson had his share of critics. Any leader, particularly of a big and growing institution, is going to make some enemies when he must make one major decision after another affecting people … when he must acquire land occupied by homes and farms and businesses to expand the campus … when he makes major changes in the academic structure of a time-honored school.
Some people felt he didn't devote enough time to polishing community relations for the best town-and-gown cooperation; there were facultymen who thought he pushed too hard in his demands for extra work and dedication. But in the over-all perspective, Dr. Wilkinson was a builder, a leader who set the pace, a university president who demanded and got performance.
Brigham Young University has come a long way since the old B.Y. Academy was established in 1875. Eight men have headed the institution (as the academy until 1903 and as the university since then). Each president had his strengths; each had his role in the over-all destiny of the school.
Certainly Ernest L. Wilkinson was the man of the hour in the assignment that awaited him – to expand and build BYU academically, in physical plant, in spiritual objectives, and in its public image at home and abroad.
The Herald pays tribute to him and his lifetime of service and extends sympathy and condolences to his wife and family in his passing.