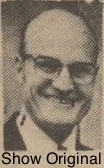 Joseph Fielding Smith, 10th
president of the LDS Church, served
a shorter tenure at the helm than
any of his predecessors.
Yet there were many
distinguishing features about his
administration. Some of these were:
– Church membership soared
past the 3,000,000 mark during his
2'/Z-year administration.
– Far-reaching organizational
changes were made to provide a
more extensive supervisory
structure across the world.
– President Smith was the oldest
of the l0 Mormon presidents to be
sustained prophet, seer and
revelator at the remarkable age
of 93.
-He brought to the presidency an
unsurpassed background in church
service, having been an apostle for
nearly 60 years, recognized perhaps
as the top theologian in the church.
President Smith's death ends an
era that stretches back to the
pioneer period of the Mormon
Church. Brigham Young, the second
president and great colonizer, was
still alive when be was bom.
His heritage reached back to the
very beginning of the church. Joseph
Smith Jr., prophet and founder of
the church in 1830, was his great
uncle, and the propbet's brother
I-lyrum, an assistant president of the
church, who was martyred with
Joseph on June 27, 1844 at Carthage
Jail, was his grandfather. Prwident
Smith's father was Joseph F. Smith,
sixth president of the church, and
son of Hyrum Smith.
Thus, the revered 10th president
was a product of the church and he
honored his heritage with a lifetime
of devout living and example.
He was a crusader for
righteousness, student of the,
scriptures, and author in his own
right with 24 books and numerous
articles and pamphlets to his credit.
Church members, from the
humble to the great, were shocked at
his sudden passing Simday night,
and spoke words of praise for bis
stature as a man, his church
leadership, and his devonon to his
family.
Funeral services will be held
Thursday at the Mormon Taber-
nacle where thousands will pay
homage to this extraordinary man.
With his passing, the direction of
the church is temporarily in the
hands of the Council of Twelve
Apostles, as it has been on several
occasions before.
Following the tradition of the
church, it is likely President Smith's
successor will be the senior member
of the Twelve – Harold B. Lee.
Elder Lee, now first counselor in
the First Presidency, has been
spiritual pillar and a popular leader,
not only in the church but in
education, business and public af-
fairs. 1-le became a member of the
'lwelve April 6, 1941.
The Herald joins friends of
President Smith everywhere in
expressing regret at his passing and
deep sympathy to his family. His life
was characterized by unswerving
purpose and long, faithful and
dedicated service qualities which
his followers and admirers might
well emulate in the years to come.