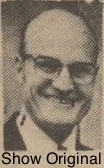 Inflation has vastly increased the cost of the Colorado River Project as well as adding time to the schedule.
Now, when original estimates called for construction to be nearing completion, the target date appears almost as far away as at the inception of the project – and cost estimates have more than tripled, according to the Utah Foundation, non-profit research agency.
The Colorado River Storage Project was authorized by Congress in April, 1956. Total cost was estimated at that time at $760 million, and construction was to take 15 to 20 years.
The program provided for four major storage dams and 11 "participating projects" to permit the Upper Basin States to put their share of Colorado River water to use in agricultural, industrial, and culinary developments. Waters of the Colorado River system had been divided between states of Upper and Lower Basins by the Colorado River Compact of 1922.
As the Foundation noted, inflation kept construction costs spiralling. Construction schedules were slowed by lower-than-anticipated congressional appropriations and by environmental requirements and court tests.
Through June 30, 1975, more than $1 billion had been appropriated for the Colorado River Project, and estimated cost to complete is nearly $1.5 billion more. On the basis of present estimates, not providing for future inflation, completed cost would be more than three and one-quarter times the original estimate.
The authorized ceiling for project costs was raised in 1972 from the original $760 million to $1.37 billion– with an "escalator factor" tied to the construction cost index to provide for future inflation.
Three of the storage dams – Glen Canyon, Flaming Gorge, and Navajo – are substantially completed and are generating electrical energy, receipts of which go toward repayment of project costs. Additional units were added to the project, and funding provided for the Curecanti Storage Dam, in 1962, 1964, and 1968.
Through the fiscal year ending June 30, 1974, about $228 million had come into the Colorado River Basin Fund for project cost repayment. Flow of money into the fund will accelerate as units of the project are completed and benefits realized.
A substantial part of the Colorado River Storage Project is repaid to the federal government directly and additional benefits return indirectly to the economy, the Foundation points out.
Funds Congress appropriates for the project are not a "handout," but will be paid back for the most part.
It is hoped that Congress will increase appropriations, keeping apace with construction capability. The faster the project is completed the sooner the benefits will peak and the less the inroads of inflation will be felt in construction.