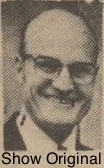 By Tom Raum
AP Economics Writer
WASHINGTON – The federal government amassed a record $220.7 billion deficit in the fiscal year that ended Sept. 30 despite enactment of major deficit-reduction legislation. the Reagan administration reported Tuesday.
The government took in $769.1 billion in receipts and paid out $989.8 billion in expenditures, the Treasury Department and the White House Office of Management and Budget said in a join report.
That produced an $8.8 billion increase in federal red ink over the previous record deficit of $211.9 billion in fiscal year 1985.
There have now been deficits in 25 of the past 26 years,  running up a total accumulated national debt of $2.2 trillion.
Servicing that debt cost U.S. taxpayer's $187.1 billion in fiscal 1986 another record and up from the $178.9 billion in interest payments in previous year, the report said.
Tuesday's accounting contained the final figures for the 1986 deficit. Parts of the report had been released previously.
Although the local 1966 deficit represented a 4.2 percent increase over the year before, it was still $9.5 billion below the $230.2 billion that the OMB had estimated for the year as recently as August.
Economists in the government and private sector have predicted the deficit will come down in the fiscal year 1987 – even without additional spending cuts by Congress – to the vicinity of $170 billion.
The record 1986 deficit came despite enactment during the past fiscal year of the Gramm-Rudman deficit reduction act and of nearly $12 billion in spending cuts made under it. The law calls for a balanced budget by 1991.
A provision of the law triggering automatic spending cuts if Congress failed to meet increasingly stringent deficit targets specified by the new law was invalidated by the Supreme Court last summer.
The Gramm-Rudman deficit target for the current fiscal year, 1987, is $144 billion.
The Treasury Department OMB said the $9.5 billion difference between the final figures the and the August estimates came from $3.9 billion in higher revenues and $5.6 billion in lower outlays than previously projected.
The higher revenues were due in part to larger-than-expected collections of income taxes from corporations. Government analysts said this apparently was due to accelerated payments of 1986 liabilities resulting from business uncertainties about the recently enacted tax-overhaul bill.
Another unexpected surge in revenues came from higher customs receipts due an increase in imports.
The lower spending figures reflected less-than-anticipated spending on international monetary programs, the Rural Electrification Administration and the Farmers Home Administration, the joint Treasury-OMB statement said.