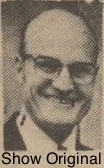 WASHINGTON (AP) – The federal government enjoyed .1 record $38.7 billion surplus in April as both individual and corporate tax payments rose sharply, the Treasury Department said Thursday.
The huge surplus, representing the difference between what the government took in and what it spent last month, helped to reduce the deficit for the first seven months of the fiscal year to $83.3 billion.
That figure is 34 percent lower than the red ink run up during the first seven months of the 1986 budget period, a year in which the federal government suffered a record deficit of $220.7 billion.
The Reagan administration has been forecasting that the deficit this year will shrink to $173.2 billion. Private economists said Thursday that this goal is not as out of reach as they once thought.
Allen Sinai, chief economist for Shearson Lehman Brothers, said he was now forecasting a deficit of $182 billion for fiscal 1987, down from an earlier projection of a $190 billion shortfall, based on higher tax revenues so far this year.
Sinai said personal income taxes were boosted because many high-income taxpayers decided to sell off assets at the end of last year to take advantage of lower tax rates for long-term capital gains. That advantage was eliminated under the new tax law.
Corporate taxes are up this year, he said, because business profits are up.
Inflation is higher and the dollar is lower and that helps corporate profits," Sinai said.
Even with the improvements, the federal deficit will still be above the $144 billion target set by the Gramm-Rudman balanced budget law. The deficit target for the fiscal 1988, which begins Oct. 1, is $108 billion.
While the government normally posts a surplus in April, the deadline month for filing income tax returns, the surplus this year of $38.7 billion was almost four times higher than last year's April surplus of $9.9 billion.
Government receipts totaled $122.9 billion last month, while spending totaled $84.2 billion.
Individual income tax payments amounted to $71.9 billion of the revenue figure, up 59 percent from a year ago. Corporate tax payments totaled $11.2 billion, up 28 percent from April 1986.