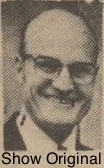 A federal judge has upheld an Atlanta, Ga. High School senior's claim that pre-game prayers at school football games are unconstitutional.
"The court grants plaintiffs request for a judgment declaring pre-game invocations at Douglas County High School football games unconstitutional," said the decision by U.S. District Judge Ernest Tidwell.
The case arose last fall when Doug Jager, an 18-year-old member of the marching band, objected to the prayers, claiming they were in violation of separation of church and state. Jager describes himself as generally agnostic.
Tidwell granted a temporary restraining order against the prayers in September. Final arguments were heard in December.
Tidwell's order denied Jager's request for a permanent injunction against the pre-game prayers, which have been in use since 1947, saying the court did not believe additional restraint was needed.
Jager and his father, William Jager, who joined in the suit, were represented by American Civil Liberties Union lawyers.
The school district had contended the prayers were for secular purposes to calm crowds at the game and to lend dignity to the occasion.
The U.S. Supreme Court has already banned prayer from the classroom, and with Tidwell's decision, it looks like the ban will extended to the locker room and athletic field.
President Reagan, in his State of the Union address, made it clear that he seeks a return to prayer in the classroom before he leaves office. This kind of judicial decision can only impair that effort.
It's debatable whether a prayer can be construed as violating a student's rights just prior to a football game. While a football game is an official school event, the offending action took place after regular school hours. Plus, such after-school activities are not mandatory – the students do not have to be there.
The student bringing suit may have a legitimate claim that under existing law, his rights may have been violated if the prayer had occurred in the classroom.
But when a band gathers in a football stadium, there's nothing restraining the student from just walking away. The Herald believes that if he doesn't want to participate, the student can simply avoid the gathering, but he shouldn't violate other students' rights by seeking an injunction against an honored, dignified tradition.