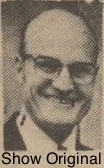 He's 88 years young, served over a half-century as a scouter, and still cherishes scouting memories – a good man to salute during Boy Scout Month now in progress.
Dr. John G. Jones, retired Provo dentist, supervised several key developments while president of the farflung Utah National Parks Council 1944-50.
The one for which he'll probably be remembered longest was acquisition of Maple Dell in Payson Canyon, one of America's outstanding Boy Scout camps.
If you're familiar with Maple Dell, you will agree the beauty of its setting amid lush maples and aspens is breathtaking.
Largely through the efforts of Dr. Jones and his executive board plus the generosity of the owner, the 160-acre site – and three buildings including a dancehall – were purchased in 1947 for the incredible price of $7,500.
A slight problem stood in the way – the council didn't have the money. Jones and others solved the puzzle by organizing a "Thousand Dollar Club." Nine public-spirited men gave $1,000 apiece; others contributed lesser amounts. Enough money was raised for the purchase price and early development.
Among other of Jones' innovative actions, he formed a Silver Beaver club, believed the first in America. (He's a Silver Beaver, himself.) "We put those good men to work on obtaining needed scout facilities," he recounts. "They also helped in other ways with their valuable knowledge and skills."
Maple Dell is now used year-around. Its spacious lodge, a gift from Mr. and Mrs. Wilford W. Clyde, is just one of its many valuable features.
Anniversary Day focal point of Boy Scout Month comes Feb. 8 each year, according to Fred R. Day, Utah National Parks Council scout executive. This harks back to that date in 1910 when the Boy Scouts of America was incorporated in Washington, D.C.
The Utah National Parks Council covers 70,000 square miles – from the Point of the Mountain south to Fredonia, Ariz., and includes the Uintah Basin.
Day says scout membership is at an all-time high of 36,000 in the council. About 14,000 men and women scouters are engaged in leadership.
Prior to presiding over the council, Jones had held nearly every other position in scouting. And after completing his six years as president he served eight years as first vice president.
Portraits of Jones and 15 other men who have served as council presidents are displayed in the board room of Boy Scout Headquarters at 250 W. 500 N. in Provo:
John S. Smith, 1921-24; Franklin S. Harris, 1924-26; Stephen L. Chipman, 1926-27; Oskar K. Hansen, 1927-29; J. William Knight, 1929-30; Lowry Nelson, 1930-35; Henry A. Gardner, 1935-40; Madson W. Merrill, 1940-42.
David O. Wight, 1942-44; John G. Jones, 1944-50; Merrill Christopherson, 1950-52; Wilford W. Clyde, 1952-64; Mardin D. Pearson, 1964-66; Da Costa Clark, 1966-78; Raymond E. Beckham, 1979-81, and the current president, William A. Miller.
Nelson is 92. Though in poor health he still maintains an active interest in public affairs. Past presidents still living in addition to Nelson and Jones are Christopherson, Pearson and Beckham.
While we are featuring Jones today, all the presidents and countless scouters share the tribute because they have shared the common goal of "building men of the future." There's enough glory to go around.