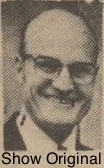 To know Ray Murdock was to share his friendship – and today has many, many friends mourn his death following a two-month illness and multiple surgeries.
Mr. Murdock, immediate past Provo City commissioner, served eight years in the post before retiring from politics a year ago.
It was in this period that he became best known to the citizenry in general – but many years as a businessman, school board member, and in civic and church service previously had projected him before the public eye.
Ray was born in Heber but came here as a child – a member of a large and highly respected family among whose talents was music. The Murdock orchestra of which he was a part, brought joy to people in and around the valley and was in much demand.
Mr. Murdock was a great booster for Provo through the years and demonstrated his love for the city and its people in devoted service in many community endeavors.
Among the positions of trust he held were president of the Jaycees, vice president of the Chamber of Commerce, president of Rotary Club, member of the Provo Board of Education 12 years, and a director of the Utah league of Cities. He gave unstintingly of his time and talents in church work also. his service including five years as bishop of the 13th Ward.
His fellow city commissioners during his eight-year tenure on the commission were Mayor Verl G. Dixon and Commissioners Luke Clegg and Russell D. Grange (now mayor). All were strong in their praise of Ray for his dependability, honesty, fairness, and dedication as he headed the departments of streets, sanitation, parks, and recreation.
It was during his tenure that the new city center was built, filling a long-felt need.
Always a Christian gentleman, Mr. Murdock was congenial and considerate and maintained a sly sense of humor that was evident in official as well as informal conversations.
There was much that was examplary in the goodness and achievements of Ray Murdock. The community has suffered a great loss in his untimely passing.
The Herald joins in expressing sadness in his death and in extending sincere sympathy to his widow and family.