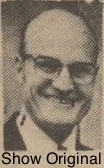 Another civic club has joined in the campaign to "safeguard against crime."
The Kiwanis Clubs are urging people to protect their homes and families by conscientiously work-ing to "stop crime before it starts."
These are specific suggestions:
Double check the identity of callers you don't know.
Install deadbolt locks on out-side doors.
Avoid dark streets at night.
Stay away from doorways or alley entrances.
Walk purposefully.
See that your children know the ruses of molesters… and avoid them.
Report suspicious strangers.
Park at night in well-lighted spots.
Keep valuables carried in your auto out of sight.
Lock the car when you leave it.
Always look inside your car before you enter it.
Stop deliveries when you leave for a trip.
Put the door key in a safe (non obvious) spot.
Lock the garage when the car is out.
The Kiwanis message adds "Your police department can give you tips on preventing almost every kind of crime; tips that work. Let them help you make your home and city safe.
"No doubt about it, the Kiwanians have a good program the Families who heed the message are quite likely to be safer and less apt to be victims of crime.