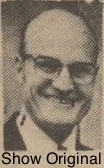 B. E. (Bye) Jensen's career in newspapering amounts to a notable success story in which he rose from a humble beginning in advertising to become first vice president of Scripps League Newspapers, Inc.
Jensen died suddenly last Saturday of heart failure at age 60.
Scripps League has newspapers in 16 states from Vermont and Florida to California and Hawaii, one of these being at Provo where Bye continued as publisher of The Daily Herald, a post he held for 22 years.
Jensen had the personal qualities for success. Intelligent and personable, he believed in the dignity of work, developing his talents, and striving continually for excellence.
His courteous and respectful manner fit his image of a true gentleman. Yet he was a man's man who loved the outdoors – Including fishing, hunting and golfing. A delightful sense of humor helped make him an enjoyable conversationalist.
Bye came up through the ranks of advertising staffs of three daily newspapers before serving as business manager at the Arizona Daily Sun in Flagstaff. He next became publisher of the Logan. Herald Journal and was only 38 when he took over as publisher of Provo in 1964.
His appointment as first vice president of Scripps League Newspapers came two years ago.
Jensen took example and inspiration from certain persons whom he admired – like his father, the late Parley Jensen of Ogden. The senior Jensen, a veteran of World War I, was one of Utah's prominent American Legionnaires and a great promoter of patriotism.
Bye, of course, was a War II veteran of the European campaign and a patriot in his own right. He believed intensely in the American Way.
Another Jensen ideal has been E. W. (Ed) Scripps, president and chairman of the board of Scripps League Newspapers, Inc. The two men have been "look alikes" in their newspapering concepts and goals of objectivity, fairness and responsibility in covering the news.
In his earlier years as publisher, Jensen wrote a weekly column and in one of these he gave a clue to one of his favorite philosophies by quoting these words of Albert Schweitzer:
"You must give some time to your fellowmen… do something for those who have need of a man's help; something for which you get no pay but the privilege of doing."
Bye epitomized that counsel by sewing in numerous leadership capacities in the community and state, for which he earned many honors and recognitions.
He wrote tenderly in his column about his wife Nannette whom he called "Double-N." In one column he humorously described his woes at home while Nannette was in the hospital. I think readers sympathized with both of them while laughing at his sense of humor. His last paragraph:
"If anyone wants to argue about a woman's work never being done, I'm ready for you. Can't argue too long, though. I've got to get home and do some vacuuming, dusting, and other little meaningful chores. It has to be done now because we expect Double-N home today and I wouldn't want her to think I had a problem keeping up the house while she was gone."
Bye Jensen tried to be a friend as well as a good boss to his co-workers. A personal example:
After I'd had a partial stroke in my still-working years after retiring as editor, he lifted my spirits with a phone call. "Chris," he said, "we're still reserving that desk for you. When you are ready, come and use it. And if you're not ready yet we'll hold it for you until you are."
What encouragement I received from that call!
Every time I enter the Herald offices and plant built under his direction, I will be reminded of him. The same goes double for that desk. Even after I yield it to someone who needs it more than I, I'll think of it as a symbol of Bye Jensen's friendship and goodness to me.