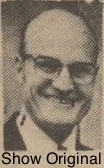 Does the public have a right to know how much public employees are being paid?
Traditionally the answer has been yes – the taxpayers whose money pays the salaries ought to have the right to know, if they ask.
But the question, as it applies to college and university employees in Utah, is being debated now. The state's board of regents and its commissioner of higher education say no.
This despite a State Records Committee resolution last spring that salaries at Utah colleges and universities should be open to public inspection.
According to an Associated Press dispatch several weeks ago, every state surrounding Utah makes such information routinely available to people who ask. This includes Arizona, Nevada, Idaho, Wyoming, Colorado, and New Mexico.
Dr. T. H. Bell, commissioner of higher education, refused to release payroll information, saying he didn't want to be sued for invasion of privacy. And Donald B. Holbrook, chairman of the State Board of Regents, declined to order release of the information because of issues he said were raised by the attorney general's office.
Brinton R. Burbidge, assistant attorney general, had issued an "advisory" opinion in which he counseled Weber State College officials not to release "personally identifiable" salary information. The Burbidge opinion was give after reporters for "Signpost" student newspaper at WSC, asked college administrators for faculty salaries.
We understand the state records committee will discuss this question at a hearing Dec. 21 at 10 a.m. in the governor's board room. The committee consists of the lieutenant governor, attorney general, state auditor, and state archivist.
The public has a stake in the issue which, the attorney general has indicated could wind up in the courts. Any possible determination that the people have no right to salary information would seem to us a step backward in the concept of the public's right to know.