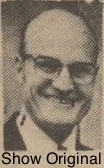 In Honor of Provo's 136th birthday, the city will unveil a permanent recognition Wednesday to honor those citizens who have served, or are serving, as volunteer members of a citizen's board.
Entitled, "In Community Service," the permanent recognition will be featured in a public ceremony at 7 p.m. in the city center, 359 W. Center Street.
A short reception will follow the unveiling ceremony. The public is invited to both events.
Mayor James E. Ferguson said the city has been working on the project for some time.
"It was brought to mind during the last two years of flooding, how important the volunteer efforts can be," he said. "We realized there are literally hundreds of volunteers, who, on a year round basis, give hundreds of hours of service to the city.
"Our city would not be the beautiful city it is today, if it were not for the citizens. We are pleased we will now have a permanent tribute for those who have given, and for those who continue to give service."
Wednesday's ceremony will be the culmination of over two years of preparation and research by city officials.