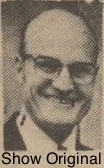 By RENEE C. NELSON
Herald Women's Editor
N. LaVerl Christensen's 39-year newspapering career has spanned a remarkable era of growth for Central Utah and for The Daily Herald.
For 38 of these years "Chris" has been employed in the news area of The Daily Herald. He has served as editor or managing editor for just over 30 years. Besides his full-time newspapering, he was a sports "stringer" for state papers for four years while attending Snow College and Brigham Young University, and a part-time staffer at the Herald during his 'Y' years.
In Tribute
In acknowledgement of Mr. Christensen's approaching retirement Oct. 12, Publisher, B. E. "Bye" Jensen paid tribute to him by observing "In my 31 years of newspaper experience have never worked with anyone as loyal and dedicated in the newspaper business as Chris. He has always been the kind of person who has recognized there are two sides to every issue and has gone the extra mile to make sure he presents an objective viewpoint." Mr. Jensen further emphasized, "Even though Chris is retiring we hope to keep him on in some capacity in order to utilize his exceptional talents."
From the retired former publisher, L B. "Jack" Tackett, the praise of Mr Christensen was similarly effusive. "When the opening for managing editor became available," he recalled, "I could imagine no one more qualified than Chris. He never disappointed me." Mr. Christensen came to the Herald just prior to Mr. Tackett when the circulation was about 3,000; it has now grown to over 30,000. "And Chris too has grown and adapted to the changes," the former publisher observed.
In the three decades Chris has been editor or managing editor he has written or processed news and editorialized on virtually every major issue or development in the Provo area. To illustrate how long that has been: Ten Provo mayors and seven U.S. presidents have served during the period.
In Touch With Readers
Mr. Christensen's success is undoubtedly partially attributable to his insight and sensitivity to the pulse and temperament of the communities he has served. "I believe in the role of the regional or community daily," he said. "Here at the Herald we can provide the state, domestic and international news and pictures our readers desire while concentrating – as no metropolitan paper possibly can – on the local news and features. The upward spiral of Herald circulation through the years is indicative of reader support in what we have tried to do."
He commended the progressive leadership of Publishers B. E. Jensen and L. B. Tackett and also Herald staffers "who have brought their talents, craftsmanship and dedication together in teamwork so vital in this type of operation. I've been honored to be part of the team," he said.
Mr. Christensen also expressed high regard for the Scripps League Newspapers Inc., with whom the Herald has been affiliated since 1926. "The League has demonstrated over and over," he said, "its faith in this newspaper and in the counties it serves – Utah, Wasatch and Juab. The president and chairman of the board. E. W. Scripps, has been a tremendous booster and supporter."
Background – Honors
Chris has taken pride in many awards won by staff members, and has personally received several notable recognitions, including the George Washington Medal from the Freedom Foundation of Valley Forge; a citation by the Provo Chamber of Commerce for community service; the Good Citizenship Medal of the National Society of the Sons of the American Revolution for support of American principles; and the American Legion award for meritorious leadership and service.
He has served on the governor-appointed Snow College Institutional Council; two terms as director of the Provo Chamber of Commerce including twice chairman of BIE Day; two terms as commander of the Provo American Legion, having served in the U.S. Navy during World War II; and as vice president of Utah Lake Lions Club. He taught journalism at BYU as special instructor for a number of years while City Editor at The Daily Herald.
Active in the LDS Church, he has served as bishop, high councilman and a member of the Utah Stake presidency.
Summarizing Career
In reviewing his career, Mr. Christensen concluded on a nostalgic note: "As editor," he said. "I have had a ringside seat during eras of the greatest growth for both Central Utah and The Daily Herald. The Herald has published from three different locations since I joined the staff, including two new buildings. Technology has been modernized continually by far-sighted leaders with whom I've been privileged to serve."
And in summarizing his role during this period, he said, "We have tried to make the Herald a responsible, attractive newspaper – fair, accurate, and devoted in the interest of Central Utah – while speaking out for honesty, economy, and high standards in government at all levels."
His loyal supporters and Herald staff members will feel a sense of emptiness and loss with Mr. Christensen's exit from the newspaper scene. But like the gentleman he is his departure is being executed with honor and dignity.
Of the incoming managing editor Chris said, "My congratulations go to Ben Hansen on his new appointment, and best wishes to him and the staff."