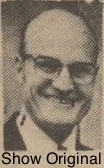 Our state song, "Utah, We Love Thee," may have its inadequacies but are these sufficient to warrant displacing it as an official state symbol after all these years?
Gov. Scott Matheson "occasionally has suggested," according to a news story, "that somebody ought to come up with a more modern replacement."
Now, Dr. Steven R. Mecham, a Weber School District administrator and part-time song writer, has responded by composing a ballad-type song. He calls it, "Oh, Utah's My Home."
Mecham recently sang his song for Governor Matheson and received "a round of applause," said the news account.
If Mecham pursues formal steps for state song consideration, he eventualy could find himself auditioning before the Utah legislature if the lawmakers are interested in shopping for a new musical composition.
By law, you see, the Legislature designates the state song. "Utah, We love Thee" got the nod in the first place by legislative vote Feb. 10, 1917 – nearly 68 years ago.
Words and music were written by Evan Stephens to commemorate Utah's 1896 entry into the Union as the 45th state – "Columbia's newest star," to borrow from the lyrics.
Stephens (1854-1930) was born in Wales, came to America by sailing vessel, and walked across the plains to Salt Lake City at age 12. He rose from obscurity to become director of the Mormon Tabernacle Choir which won second prime in competition at the World Fair in Chicago in 1893.
J. Spencer Cornwall, a later Tabernacle choir conductor, had only praise for Stephens as a musician and hymn writer but wasn't particularly fond of "Utah, We Love Thee" for congregational singing.
"Because of the irregular rhythm and snatchy melodic lines, it is not a good community song," wrote Cornwall. "It is best done by selected singers."
This calls to mind the off-and-on criticism of our national anthem, "The Star-Spangled Banner." One argument is that while trained singers generally handle its wide range of notes just fine, the average citizen has difficulty reaching the high or low notes.
Even the critics, of course, must admit the anthem has patriotic sweep and dignity and that historically it is cemented in tradition.
It would be hard to find an anthem that has "everything" and would please "everyone" all the time. And don't forget that to throw out "The StarSpangled Banner" would ruffle the feathers of every staunch backer of the song.
The same could be said, to some degree, of the Utah state song and the other official symbols – our motto (industry); state tree (blue spruce): flower (sego lily); state bird (seagull, unofficial), and nickname (Beehive State).
My guess is that switching anthems, as a few editorialists have suggested in recent years, probably is the furthest thing from the minds of members of Congress. And right now I don't believe Utah legislators are losing any sleep over the state of our official song.
At one time I suggested that if replacement of "The Star-Spangled Banner" ever becomes a "front burner issue," we should by all means keep the anthem – but perhaps, in addition, name an official national "march" or "hymn" for optional use appropriate to the occasion.
Maybe that approach should be considered in case Matheson's suggestion really takes root: Preserve the status of "Utah, We love Thee" while approving an official "march," "hymn" or "ballad."
In such an eventuality, though, wouldn't the democratic thing be to sponsor a contest open to all Utah song writers?