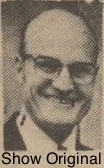 If you're new in Provo you might wonder about the brick smokestack near the heart of the city with "Ashton's Chevrolet Buick" inscribed in larger vertical letters.
The smokeless stack is a vestige from the historic Woolen Mills, once Provo's largest industry which operated for 60 years on the First West-Second West block between First and Second North. But in modern times it was the symbol of another business institution – the P. E. Ashton Company – which also made history on the block.
For most of the 40 years that Preston E. (Pete) Ashton owned and managed this automotive firm, it was located on the Woolen Mills site. Ashton purchased about three-fourths of the block from Monte Young in the early forties, moving from his original location at University Avenue and Second South.
He sold the business several years ago but still owns me property, now the home of Ed Higgins Chevrolet-Buick, Inc.
Pete Ashton's rise to success was in the best tradition of a Horatio Alger legend. While achieving his business and economic goals he also served the community and state energetically as a review of his leadership positions testifies.
He served as president of these organizations: Provo Chamber of Commerce, Provo Rotary Club, Radar Club (predecessor to Riverside Country Club), Utah State Automobile Association, Timpanogos Golf Association and Utah County Automobile Association.
He was also, member of the Utah Liquor Commission for five years; chairman of the Provo Fourth of July celebration and of a Red Cross fund drive; board member, Utah Valley Hospital; and member of the first Olympics for Utah Committee, the Brigham Young University Athletic Council and of Four Seasons whose successor seeks to develop a mountain ski resort east of Provo.
Ashton continues as one of Provo's senior businessmen with his own investment company for managing his 14 office, warehouse and apartment buildings occupied by 33 tenants.
He welcomes the more relaxed life but likes to reminisce about those "18-hour days" he sometimes used to work, noting the truth of the witticism, "The harder I worked the luckier I was."
There's more time now to be with Eleanor (Ellie), Pete's wife and business associate. They travel a lot. This year they enjoyed taking the paddle wheel boat "Mississippi Queen" at New Orleans and sight-seeing by auto along me Gulf Coast. Egypt and the Nile River were travel highlights in 1983; China the previous year.
Eleanor has made her own mark in the community, especially as a member and president of the Provo Library Board and president and long-time leader in the Girl Scout organization.
"She has been an excellent adviser in our business," says Pete, who also credits her insistence on saving as a factor in their success story. "Sometimes the key thing isn't so much what you make as what you save."
The couple's two sons both live in Salt Lake City. John Peter is an attorney. Patrick is pursuing a business career.
There were hallmarks to remember from Pete Ashton's career in the automobile business, including numerous awards. In 1974 he was one of only 57 in the nation to receive the prestigious Time Magazine Quality Dealer Award.
During a good business year the Ashton Company sold an average of 300 new and used cars per month. At its height, the firm had 70 employees. Pete took pride in helping his staff members develop their abilities. "Many of them became auto dealers themselves."
To mention three awards Ashton received for public service: A citation for support of school districts in driver education; the Minute Man Award of the Honorary Colonels of the Utah National Guard; and in 1973, a major award from the Provo Chamber of Commerce "for outstanding contributions to the community" with prime focus on his leadership in downtown parking development.
Both Pete and Ellie are golfers. He negotiated purchases of land to enlarge the Riverside Country Club's course from 9 to 18 holes and had a similar role in expanding the Timpanogos course.
As one of their hobbies, the Ashtons enjoy growing orchids, camelias and geraniums as well as plants for their garden, in their own greenhouse.
The Pete Ashton story began in Salt Lake City where he was born in 1906, the last child in a family of 11. His father died when he was four.
As a boy he had a milk route, worked in a lumberyard and learned about cars working in his brother's garage.
In high school, college and later he sold cars – Hupmobiles, Cords, Pierce Arrows and Studebakers as well as some of those popular today. This paved the way toward his career in the auto industry.
Most of Pete's college was at University of Utah, with a short stint at New York University. He met Eleanor Lowe at a fraternity party at the old Geneva Resort on Utah Lake while both were attending the U. They were married in 1936.
About that time Pete and Jerry Cannon organized the Cannon Ashton Company which later was dissolved. The Ashtons moved to Provo in 1938 after Pete obtained the Chevrolet franchise here.
There were tough times early in the Provo period. Wartime construction of Geneva Works helped reverse that situation. Population growth spurred the demand for cars – new, used and leased. The P. E. Ashton Company gained momentum which continued through the years.
After Ashton bought the Provo Woolen Mills property, he remodeled existing buildings as needed and later built new offices and salesroom.
(The mills had operated from 1872 to 1932 – after about 1910 as the Knight Woolen Mills, reincorporated by Jesse Knight and other interests. Despite valiant efforts, the industry never reached its former heights after a disastrous fire July 30, 1918).
Many old-timers will recall, with Pete and Ellie, a small brick structure that still stood on the block facing First Went when Ashton took over the property. It had been built in 1867 as a courthouse and jail and was used five years for that purpose before being purchased by the Woolen Mills for warehouse use.
Historian J. M. Jensen related that the little courthouse-jail was a scene in early days of the trial and execution of one Chauncey W. Millard, a young stranger who had murdered two herders north of Utah Lake.
Wrote Jensen: "The execution took place Jan. 16, 1869. It was a public one, the first affair of its kind in the county, and the courthouse square was filled with curious sight-seers."
That was a bit of Provo history even preceding the Woolen Mills. The entire story of the block will always be a source of fascination for the Ashtons. Particularly satisfying will be the chapter they wrote by their own vision, hard work and leadership.