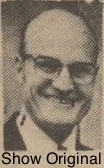 Eight young musicians guest-starred with the Utah Valley Symphony Wednesday night at the Provo Tabernacle in the annual Youth Artists Concert – and if applause was an accurace indicator, concert-goers loved what they heard.
Conductor Ralph Laycock first directed the symphony in Robert Washburn's "Festival Overture," In captivating contemporary number with tricky rhythms and strong thematic passages.
Then the symphony became accompanist as seven girls and one young man took turns in the spotlight, each exhibiting artistic excellence worthy of praise.
Mana Primrose, 12-year-old violinist, was in solo role for Mozart's familiar Concerto No. 4 in D Major. Holding violin high in classic position, she displayed fine technique for one so young. A highlight was her rendition of a cadenza composed by her violist father, William Primrose.
Pianist Beverly Thompson performed Macdowell's Concerto No. 2 in D Minor, Op. 23 both sensitively and authoritively… and with poise as well as grace. The orchestra played its melodic accompaniment with expression and clarity.
Laura Wilkinson, coloraturo soprano, established good rapport with the audience in "Una Voce Poco Fa" from The Barber of Seville by Rossini. Her well-trained voice had the range, power , and flexibility required by this demanding composition, including sparkling runs and trills.
Denise Wilson, violinist, had a fine vibrato and intricate bowing technique in performing the Allegro ma non troppo movement of Edouard Lalo's Symphonie espagnole in D Minor, Op 21. Difficult position shifts seemed easy for her.
Pianist Laurel Roberts, 12, played, with articulate clarity, Mendelssohn's Concerto No. 1 in G Minor. Poised but sensitive, she was in full command even in the difficult octave passages.
Nancy Payne, violinist, played Wieniawski's challenging Polanaise Brilliante No. 2, Op. 2l with fine control, even in nuances replete with harmonics, double stops and sustained fingering in the high positions.
Soprano Denise Madsen sang Charpentier's "Depuis le Jour" from Louise, impressing listeners with her expressive interpretation of the composition, and her tonal accuracy and power, enhanced by a fine vibrato. Her considerable experience in operatic circles In the valley was evident in her performance.
To conclude the program, Julian Finlinso, pianist, gave a rousing rendition of Rubinstein's Concerto No. 4 in D Minor, Op. 70. With sure hands, she performed confidently and with apparent ease the numerous passages involving crossing of the hands.
Maestro Laycock artfully coordinated efforts of symphony and soloist in each of the selections.
Cornelia Madsen of the symphony arranged the auditions and presented each young artist with a gift and a certificate.
In spite of the post-storm road conditions. a good-sized audience was on hand for the concert.