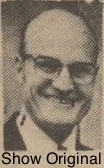 With its 100th commencement Friday, Brigham Young University took a long look at achievements of the past as it also viewed the challenges of the future.
The historic commencement, and the opening of the Maeser Memorial Building cornerstone box the previous day, touched off a year-long centennial observance on the 'Y' Campus.
History – particularly as it applied to BYU – came into focus during much of the commencement program. President Dallin H. Oaks recounted highlights of graduation exercises through the years. And Leonard J. Arrington, LDS Church historian and commencement speaker, dealt with 'Y' history in what he called "seven steps to greatness."
The BYU of today is a far cry from the Brigham Young Academy of the early years when graduating classes included only a handful of individuals and classes were held at first in the old Lewis Building, then the ZCMI warehouse before moving to the education building on the lower campus at Fifth North and University Avenue early in the 1890s.
Growth has been spectacular, particularly in the past quarter century, as the university developed its beautiful campus on what was once called "Temple Hill," took great strides academically and enrollment-wise and, in keeping with goals of early leaders who established the school, organized stakes and wards for church participation.
Withal, BYU has earned a place among the great universities of America in its first hundred years. Growth and recognition have not come easily. The school's history is dotted with struggles and in some cases frustrations as Mr. Arrington noted.
One of the matters which brought some concern, the historian observed, was the desire on the one hand to have the best secular learning that could be obtained, and on the other the desire for the type of educational experience which would build testimonies.
Dr. Franklin S. Harris, president in the early-twenties – mid-forties era, always contended that rational thought was compatible with spiritual belief and that thorough academics need not weaken healthy religion. "The history of BYU during these years demonstrates the soundness of this view," Mr. Arrington concluded. "By the end of his administration the school had obtained some academic accreditation." The strengthening of all phases of the university program has continued under succeeding administrations along with the vast building, academic and enrollment growth.
At this commencement milestone, the Herald congratulates BYU on a near-Century of accomplishment and growth. More specifically, we congratulate the 1975 graduates who were honored Friday, and extend best wishes to them.
The University will be in the spotlight in the months ahead as events of the year-long centennial celebration unfold. We urge the public to participate in these events, and to give serious thought to the educational, cultural, and economic enrichment the university brings to Central Utah and the state.