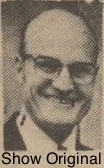 Extending school teacher salary negotiations deep into the summer, a trend of recent years in Utah, ought to be changed for the good of the public.
Each year a few school districts go "right down to the wire" in the negotiations while the public waits, not knowing whether a settlement will be reached in time for the scheduled school opening.
Indeed, recent years has produced a number of delays in the opening of school. This is not fair to the students nor the taxpayers who foot the education bill.
Last year the Juab School District Board of Education and the Teachers Association were unable to reach an agreement on wages and contracts by the school opening duty.
Teachers refused to sign contracts at that time but did agree to work until a settlement could be reached. The settlement finally came a week or so ago, 4 1/2 months after the opening of school. The public wasn't inconvenienced, insofar as we know, but this isn't a good situation and could have lead to complications.
In his message to the Legislature, Gov. Calvin L. Rampton repeated a request for enactment of a public employees and teachers negotiations act. It would seem that the problems that surface in negotiations could be resolved more easily if the rules governing the talks were established by law.
As the governor suggested, the basic thrust of the act must be on a "meet and negotiate in good fait" basis, with any collective withholding of service ruled out.
In the case of the teachers, we believe there's merit to legislation that would put negotiations on a state-wide basis and fix deadlines beyond which salary disputes would go to arbitration or mediation. There may be merit also in longer-than-one-year contracts – three years, for example, as is common in industry.
In any event, now's a good time to get at the problem while the Legislature is in session.
Tribute to Charles Sessions
Charles D. Sessions, whose funeral is slated Wednesday, was closely identified with downtown Provo for some 45 years as a businessman.
After a brief but successful career in the field of education, Mr. Sessions joined Utah Power & Light Co. at its Provo district office in 1928 and became promotional and sales supervisor.
When the company shifted its office with the advent of municipal power about 1940, Mr. Sessions elected to go into business "on his own" in the spirit of the free enterprise system.
Perhaps he became best known in business as president-manager of his Utah Valley Furniture Co. which he ultimately located in the Sessions Plaza, six-unit business block which he built in the early 1960s. Coming back from a heart attack suffered about 1959, he demonstrated considerable courage in launching the business block.
There were partners at times, but his most constant partner was his wife Ruth, who was continually associated with him in his business endeavors.
Mr. Sessions was a professional decorator with a keen eye for color harmony. Hundreds of homes in the valley are more beautiful because of his expertise.
He was a devoted church worker and help many positions of trust in the Provo Fourth Ward and Utah Stake. His civic service was highlighted by his efforts in fund-raising (he had a key role in raising money for erection of the BYU Fieldhouse, among other projects), and in Kiwanis Club activity and Boy Scouting. In Kiwanis he was charter president of the Timpanogos club, lieutenant governor of the district, and district director of the youth program encompassing Key and Circle K Clubs.
Withal, Mr. Sessions touched the lives of many people for good in his varied career. In his passing, the Herald joins in expressing sympathy to his family.