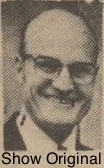 Juab County has hung out the "Help Wanted" sign – for doctors.
Currently, in the whole county, there are only three doctors two of them moving toward semi-retirement.
A survey a year ago by the State Divsion of Health projected that Nephi and surrounding towns could support four full-time physicians. With the growth pattern and the current situation with regard to physicians, Juab officials would like to see the addition of two general practitioners and two general surgeons who would engage in some general practice.
Juab County Commissioners have authorized David Peterson, administrator of the Juab Hospital, and the governing board to assist present physicians in recruitment of new doctors.
Other rural and semi-rural areas of the state face a similar dearth of physicians. Doctors tend to gravitate to the population centers. Yet, when everything is considered – housing, transportation, general quality of life, and benefits available – some might be missing a bet, in the opinion of Mr. Peterson. An added factor is the opportunity of supply a needed service and for quick identity in the community.
In an area like Juab where one or two doctors are moving toward semi-retirement, the possibility exists that a new physician might quickly acquire a clientele — something worth looking into.
The Juab County folks will be advertising in the national medical journals and through appropriate agencies. We would suggest potentially-interested members of the profession right here in Central Utah waste no time investigating the possibilities there.