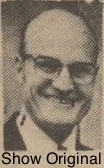 Probably no single patriotic song has provoked so much controversy, involving both lyrics and music.
But "The Star – Spangled Banner" continues to be sung and performed with pride after 51 years as our national anthem and over 167 years in the country's music history – ever since the words were written by Francis Scott Key after the British shelling of Fort McHenry in 1814.
The song became the anthem March 3, 1931 (51st anniversary this week) when President Herbert Hoover signed congressionally – approved legislation designating it as such.
Thus ended a drive of nearly two decades spearheaded by patriotic organizations and Mrs. Reuben Ross Holloway and her Star – Spangled Banner Committee of Baltimore, home of Fort McHenry.
With its octave – plus range, the music is a challenge for the average untrained voice, but it's been praised as "dignified, harmonious, grand and inspiring." Band king John Philip Sousa once said: "It's a splendid march and no true American can fail to be stirred when it is played."
The lyrics have been lauded as a patriotic testimonial for the American Flag. But their "poetic flow" has been criticized and many still object to the "combative" third stanza – a relic of the War of 1812 which reflects unfriendliness toward England, now our ally.
Alluding to the high notes with cynicism, one syndicated columnist parodied the first line: "Oh say can you sing it?"
And the old New York Herald – Tribune once described the Star – Spangled Banner as a song having "words that nobody can remember" sung "to a tune that nobody can sing."
Contrast such flippancy with the remarks of one-time Nevada Senator Key Pittman. Addressing the Fort McHenry centennial observance of the anthem. Pittman said: "When we hear the Star – Spangled Banner our hearts swell with love and pride, our minds quicken and we are possessed of a patriotism that knows no fear of suffering…"
Francis Scott Key was a young lawyer in 1814 when he visited the British fleet in Chesapeake Bay in an attempt to secure the release of a friend held by the Britons who were still at war with the U.S.
He was detained during the British bombardment of Fort McHenry. Inspired on the morning of Sept. 14 to see the giant American Flag still waving over the fort – though torn by enemy shells – Key wrote on an envelope the words to what was to become a celebrated anthem.
The song, set to the melody of "Anacreon in Heaven," an old English drinking song, was quickly accepted. "The Story of Our National Ballads" by C.W. Browne says the music was credited in turn to Dr. Samuel Arnold and to a transcription from an old French air by John Stafford Smith.
Popularity of the song grew, especially in the Civil War era. In 1889, the Secretary of Navy ordered the music played at flag ceremonies on naval vessels. The Army also adopted it for special occasions in 1903. in 1916, President Woodrow Wilson proclaimed it the national anthem but this wasn't binding after his term of office.
The campaign for official acceptance in Congress wasn't easy. For years, legislation inevitably was buried in congressional committees.
The Veterans of Foreign Wars launched a national drive in 1928 and enlisted some 80 patriotic groups. A two-year campaign netted five million signatures on a petition. Mrs. Holloway obtained the support of many influential organizations.
Official adoption in 1931 didn't end all controversy. Even in recent years some newspapers have called for a new anthem. (Their suggestions may be the subject of a subsequent article.)
Meantime, as one citizen told this writer: "Don't underestimate the support of the Star – Spangled Banner. You can't hear or sing it without experiencing pride, patriotism and devotion to country."