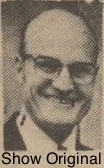 Memorial Day, 1977.
This is a day of flags and flowers and memorials — and these have been in abundance during the holiday weekend here in Central Utah.
It's a day for recalling blessed memories in the winning and preservation of freedom, and of tribute to those who sacrificed for the cause.
But the custom isn't restricted to honoring our war dead. It also embraces that vast army of civilian dead — loved ones from the humble to the great, each honored in sweet remembrance by families and friends.
In a broader sense — as we contemplate the blessings of freedom made possible by Americans who fought and died for this country — Memorial Day has yet a deeper meaning to remind us of our obligation… our commitment as the beneficiaries of past efforts and sacrifices.
Americans have never been a warlike people. From the beginning peace, justice, freedom and democracy have been enshrined in our deepest aspirations. Yet this country was born in war and we have been called upon to go to war to defend freedoms across the world when the cause seemed just.
Memorial Day should serve as a reminder of our heritage of independence … and of America's goals for peace and freedom. In our judgement, an appropriate response on a national basis would be to embrace these commitments:
-Dedication to perfecting and preserving the peace won through the vision, foresight, and sacrifices of loyal Americans.
-A pledge that we will never take peace for granted – that we will cherish and protect it as we pursue national welfare, betterment, and defense.
-Cooperation as a nation, and with other countries in the global family, to build a strong bridge to permanent peace on earth … and ways based on law and justice – not war – for preserving it.
Let these goals be more than a hope, but an active, living commitment as we commemorate another Memorial Day.