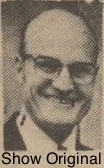 Utah County recorded a startling 33 per cent increase in serious crime in 1974.
Despite continual efforts to upgrade police-detective procedures, solving serious crime is becoming more difficult… partly because of the increasing load. In 1974 only one in four serious crimes in the county was solved.
Last November a 17-year-old Utah County girl was raped and murdered, her body left in American Fork Canyon. Earlier in the year a BYU coed was raped and murdered. Her body was found in Big Cottonwood Canyon in Salt Lake County. These two rape-murders are still unsolved – as is one last year in Salt Lake County and the disappearance of another girl in Bountiful.
Many other sex crimes also have shocked the valley.
The public has a right to expect dedicated effort by our law enforcement officers and generally we believe they are getting it. But citizen support is needed, too, and often can be the difference in breaking a case. A special citizen initiated effort is taking place now – a campaign to raise money for rewards – announced on Page 1 of today's Herald – and you have an opportunity to help.
The presumption is that in many crimes, someone, in addition to the criminal, has information. That person might have been an eyewitness, heard a careless remark dropped by somebody, or have tangible  pieces an evidence.
A reward for information leading to arrest and conviction, it is believed, might influence reluctant possessors of evidence to step forward with it.
Under the program, with the Footprinters organization taking the lead and support pledged by peace officers of the area, the county attorney's office, the Herald and others, money is being solicited from you the members of the general public for such rewards.
A board is being named to administer the fund and handle the specifics of posting rewards for certain major crimes.
A citizen, Dale Herring (see his letter elsewhere on this page) played a significant role in touching off the action and plea for the public to do something.
In a citizen effort like this, there's no structured organization to solicit "door-to-door" or even to tap channels usually contacted in fund drives. The intent is to appeal to concerned citizens – and that should be everyone – people who believe in law and order and decency… who want their families protected and criminals brought to justice.
The Footprinters organization and board will account for the money contributed. Send your cheeks to "Reward Fund, P.O. Box 717, Provo, Utah 84601."
Money in any denomination will be welcome, of course, but it is going to take major, substantial contributions to get the program going. The reward fund campaign will be a test of how concerned the citizens of Utah County really are about the upsurge of major crime. You can give a loud, emphatic answer with your dollars.