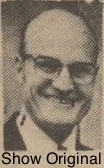 By N. LA VERL CHRISTENSEN
Scripps League Newspapers
In their dark days as prisoners of war in Vietnam, four American Air Force and Navy officers – cellmates at the infamous "Hanoi Hilton" POW camp – decided to conduct a Sunday church service in the hope this would boost morale.
Navy Pilot Mike McGrath of Delta, Colo., made the suggestion. Air Force Capt. Konrad Trautman of Pennsylvania expanded on the idea: "Let's conclude with the Pledge of Allegiance."
The two other Air Force officers – Capt. Jay C. Hess of Farmington, and Lt. Jerry Gerndt of Suring Wis. – seconded the motion.
So there in the dingy Hoa Lo prison (nicknamed "Hanoi Hilton" by the GIs), the four "Yanks" climaxed their simple devotional by saluting an imaginary flag as they recited the pledge.
They repeated the experience week by week. Strangers at first, they now felt a patriotic kinship.
Eventually, in larger POW units, the Americans were able to hide small improvised versions of Old Glory from North Vietnam "shakedown" crews and use them in the ceremonies.
The touching story – especially appropriate in this "Honor America" period between Flag Day and the Fourth of July was related with emotion by Hess, now a USAF lieutenant colonel (retired) and instructor of the Junior ROTC at Clearfield High School in Utah.
"The ritual did indeed help raise our spirits and give us strength " Hess said at a recent Freedoms Foundation Honor Night in Salt Lake City and in an interview with this writer.
Shot down Aug. 14, 1967 while piloting his F-105 fighter bomber on a mission northeast of Hanoi, Hess spent two months in solitary confinement, later to be assigned successively to four-man eight-man, 50-man, and 20-man PO units.
At least four Utahns were with him while in the larger unit – Jay Jensen and Dale Osborne of Salt Lake City, Lynn Beens of Kaysville, and Larry Chesley of Ogden and Burley Idaho. (Some time after the war Jensen served for a period as a BYU faculty member.)
Times were hard in the POW camp. There was sickness. Some GIs nursed wounds. Food consisted mainly of rice and "swamp grain" soup.
There were moves to P0w camps called "The Annex," "Camp Hope," and one near the Chinese border dubbed "Dogpatch by the Americans."
Marine Lt. Rod Knudsen of Montana improvised the first emblem the POWs saluted – simply a tiny piece of yellowish paper proportioned to the shape of the flag and glued with rice paste to a wire staff.
"It was a point of pride to assure that the flag was raised each morning and taken down at sunset," Hess said.
At "Dogpatch" in 1970 a more realistic flag was fashioned. Air Force Capt. Russel Temperly of Boston tore strips from a white handkerchief and placed the remaining ribbed portion held together by the hemmed border, over red cloth from a T-shirt. The field of blue came from a POW's sweatsuit. Bamboo sticks inserted in the hem of the handkerchief made the flag rigid enough to stand.
The Pledge of Allegiance now took on a new luster and dignity.
"In January 1972, we were moved back to Hanoi," recounted Hess. "Security was reduced. Air Force Cpt. John Drameisi of Philadelphia made a real flag.
"With thread he pulled from a blanket and using a needle he'd made from a bone salvaged from the soup he sewed the parts together including stars in the field of blue."
As the "Yanks" counted the days, Air Force Lt. John Borling penned this poem, one of Hess' prize momentos:
We dream that we'll return some day
To that land we cherish true:
And when we reach that golden shore
We'll start our life anew.
We long to be in America
To resume a happy life
Away from the miseries of war
The separation and the strife.
Back where there's truth and dignity,
Where men can stand so tall;
Back in our America –
The greatest land of all.
Yes, we close our eyes and listen
To that sound across the sea –
It's the sound of freedom,
Ringing in the land of liberty!?
The day the POWs had waited for finally came – March 14, 1973, when, in line with the Paris Peace Accords, American C141s arrived to fly the prisoners home.
'"As our bus approached the airport, the tail of the plane waiting to take us home peeked above the trees that lined the road" said Hess. "On it was painted in colors startlingly vivid to POW eyes, a beautiful American Flag.
"That flag meant much more than a ride home. It stood for people, places and things dear to my heart in America. It stood for my country."
The years since have been filled with many momentous events, but nothing, said Hess, can ever crowd out the memory of "the tiny flags we improvised in Vietnam… and what they and the Pledge of Allegiance did to sustain us through those trying times."