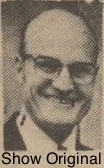 "One cannot help coming away from the celebration uplifted, grateful for a free country… proud to be an American!"
The smiling and energetic man who spoke these words was Steven R. Shallenberger, general chairman of America's Freedom Festival at Provo.
He, his top two aides Ben E. Lewis and Don T. Nelson, and over 500 other volunteers must have been very pleased to see long months of planning and effort come to successful fruition in the 1984 Independence Day commemoration.
It was a glorious celebration indeed! A few sidelights in retrospect:
The grand parade over an extended route may have pulled the largest parade crowd in Provo history. Tabulations were yet to be completed as this was written, but the total well could exceed the 250,000 estimated for the same event last year.
Did you ever see so many American Flags at once as during the Osmond Family-produced Panorama show at BYU Stadium? Many hundreds of Boy and Girl Scouts waved them as four bands played "The Stars and Stripes Forever." What a moment!
Fireworks at the Panorama show and the climactic Kiwanis Park festivities brought excited response from tremendous crowds.
Just how far the artistry and technology of fireworks have come was demonstrated rather amazingly in the "bombardment of Fort McHenry" stadium scene. And when the smoke had cleared, "the flag was still there," to use Francis Scott Key's words.
There were many indications of the festival's ever-widening patronage geographically. One interesting example: About 48,000 to 50,000 persons attended the stadium show. But in the drawing for the car and four-wheel scooter both recipients were from outside of Utah Valley (Salt Lake City and Tremonton).
Duane Hiatt's portrayal of Abraham Lincoln in speech excerpts at the great patriotic service Sunday night was very impressive. Nelson, for one, thinks portrayals of other historic figures might be a good idea at future celebrations. Washington, Adams, Jefferson, Madison – the list of the illustrious is long, and we have super dramatic talent in the valley.
Who could suppress a wave of emotion as parade Grand Marshal Kenneth D. Huff Jr. and his devoted wife Susanne McAffee Huff gestured appreciatively from their open car which carried the message: "The Ken Huff Family thanks Utah Valley for my arms."
You will remember that Kenny lost both arms and most of his vision in a cannon misfire while helping with the 1983 Freedom Festival. Generous contributions, some from far beyond the valley, made the new artificial limbs possible.
It was also touching Sunday night when Jaynann Payne, festival awards chairman, presented Huff with a plaque for valor. He received a standing ovation.
Incidentally, interest in the celebrations Freedom Awards program increased sharply this year. Jaynann reported there were 70 nominations.
This writer was humbled to be one of the dozen persons honored and I wish living up to the honor were as easy as taking the bows.
I owe my selection, in part, to encouragement through the years from Herald Publisher B. E. (Bye) Jensen in my writing of articles boosting patriotism and the American Way.
E. W. Scripps, president and chairman of the board of Scripps League Newspapers, for whom I also write part-time, is a firm advocate of America principles as established by the Founding Fathers. (The Scripps League letterhead symbol is the Torch of Liberty.)
Other long-time Herald colleagues have been highly supportive. City Editor Dick Harmon even did a recent column about me – expertly written but overly generous. His "getting carried away a bit" reminded me of a letter Calvin L. Rampton once wrote in response to my laudatory editorial when he had finished three terms as governor. In a postscript, Cal quipped: "My dear mother would have believed every word of it."
I do need to make a correction. A type mixup (not Dick's fault) left the erroneous impression that I had served in military combat. My 2 1/2 years in Uncle Sam's Navy in War II were served at shore installations in Idaho and Washington.
The closest I got to the Naval guns was serving as a petty officer on the staff of a gunners mate school and later being assigned personally to decommission that school. I was proud to serve my country, but I was not called upon for combat action.