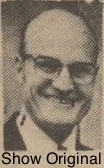 Let's take a few minutes to get better acquainted with a storied and many-named mountain, part of the Wasatch Range which rims Utah Valley.
I refer to the green, forested landmark mountain fronting the valley between Maple and Spanish Fork Canyons, easterly from cities of Mapleton and Spanish Fork.
Father Escalante named it Sierra Bonita (mountain beautiful) when he and Father Dominguez led Spanish explorers into this area in 1776. Many still favor that name for its scenic historical meaning.
However, the two names most widely used today appear to be Mount Flonette and Maple or Mapleton Mountain. Diamond Mountain, Front Mountain and East Mountain are other names which have been applied in the past.
By whatever name, its a mountain to be scaled only by the "strong in heart," says B. Davis Evans of Spanish Fork, an enthusiastic devotee… but it can provide inspiration to any viewer with capacity to appreciate its beauty and symmetry.
Spanish Fork Peak, the mountain's loftiest promontory, is shown at 10,192 feet on the Uinta Forest map. You can see it from as far distant as the Point of the Mountain at the north end of Utah Valley.
The name Mt. Flonette obviously is popular in Spanish Fork which also has a Flonette Drive and a Camp Flonette of the Daughters of Utah Pioneers.
I found its origin quite enchanting in an interview with Golden H. Brimhall of Ogden and an article by Evans published years ago.
Golden's father George H. Brimhall, who became president of Brigham Young University in 1904, married Flora Robertson, his second wife, in the mid 1880's. Meantime his good friend Milton H. Hardy married a girl named Jeannette whose maiden name I was unable to ascertain. (Hardy later became a doctor and superintendent of the Utah State Hospital 1896-1905).
The two couples – George and Flora and Milton and Jeannette – decided to climb the big mountain on a joint honeymoon adventure.
I have no information whether they had heard of the Sierra Bonita designation. Possibly they had not. In any event, Brimhall and Hardy christened the mountain Flonette, combining the first names of their respective brides.
The mountain obviously continued a sentimental shrine, Reading Dr, Brimhall's journal, Evans noted this entry; "July 18, 1887. I ascended Mt. Flonette today."
Home building in Mapleton continues to creep closer toward the mountain. Some folk orient their house plans for the best living room view of the peak. You hear residents speak of Maple or Mapleton Mountain with a sort of patriotic zeal.
For years the Mapleton Recreation Department sponsored an annual hike to the summit and awarded badges to successful climbers, according to Harold Gividen, city recorder. A small lake about 2,000 feet from the top never failed to capture the fancy of the hikers.
Grace Bennett, Mapleton city treasurer, reports that artists find the mountain a fascinating subject. She herself is a strong booster of its scenic qualities, as is publisher Martin Conover of Springville, who points out that his city offers vistas from a different but impressive perspective.
At the top of Spanish Fork Peak is a government survey maker; also a monument of long standing built of shale rock. A Brimhall family member told Evans many years ago the shale marker was erected by Dr. Brimhall and his friend (Hardy) at the time they named the mountain Flonette.
Another story is that it was built by Moses Beckstead, a sheepherder. Still another says climbers on organized hikes carried rocks to the monument site. Maybe there are readers who can provide further light.
Just knowing the story of this enchanting mountain and viewing it from various vantage points can lure you under its spell. Should you decide to get closer still and climb its ungraded trail, I suggest seeking advice about precautions from someone with experience.