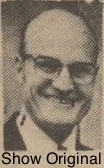 Provo said goodbye this week to one of its highly respected war heroes. Thomas S. Bullock, prisoner of the Japanese for 3 1/2 years after the fall of Corregidor in World War II.
As the sweet strains of "Taps" added a final plaintive touch to graveside services at the Provo Cemetery, many must have reflected on the price Tom and countless other Central Utah servicemen have paid in defense of freedom in wars across the globe. Many have made the supreme sacrifice. We should make sure the deeds of those who served are not forgotten.
Bullock survived the infamous Bataan Death March and endured hunger, privation and varied health problems at a POW camp at Mukden, Manchuria, controlled at that time by Japan.
He had fought with the valiant but badly outnumbered U.S. and Filipino troops on Corregidor until Gen. Jonathan M. Wainwright was forced to give up the island bastion at the mouth of Manila Bay on May 6, 1942.
Tom was one of 11,574 prisoners taken by Japan at that time. Nearly a month earlier, over 36,000 exhausted defenders had surrendered the Bataan peninsula. About 17,200 POW's were to die on the cruel death marches to prison camps (Compton Encyclopedia figures).
A crowd of nearly 200 friends and loved ones attended the Monday rites for Tom at the grave… just a few rods from the granite marker which memorializes veterans of all wars "who lie in honored rest" in the cemetery.
In a touching tribute, Erie Boorman eulogized Bullock as a man "of indomitable courage who wouldn't give up." Yet, said the speaker, he was gentle, cheerful, forgiving, appreciative… a lover of the arts and the outdoors who reflected true Christianity.
After Gordon Bullock sang, "l'll Walk With God," Daniel B. Allman, commander of Veterans of Foreign Wars District 4, presented Tom's widow, Frances N. Bullock, with the American Flag which had draped the casket. The VFW rifle salute, and "Taps" by bugler Morris Duke concluded the ceremonies.
A few notes:
Bullock's brother B. Vern told me that during the siege of Corregidor Wainwright sent Tom and two fellow soldiers to a hilltop to scout enemy ships. The dangerous mission ended when an enemy shell decapitated one of the three. Tom and the third soldier escaped serious injury…
The government first listed Tom as "missing in action" after the fall of Corregidor. But his parents. Mr. and Mrs. Ben H. Bullock, and family never gave up hope. They were overjoyed when they recognized him in a newsphoto of POW's that appeared in the Herald during the summer of 1942 and when the government confirmed he was alive…
Another case of Bullock's being spotted in a POW picture was told to me by Melvin Kavahevich after the graveside rites. Melvin was at Verdun, France, in 1944 (he later participated in the Battle of the Bulge) when he saw Tom in a group photo published by an Army newspaper. "That's my friend from Provo, Utah." he exclaimed to his buddies…
V-J Day ending the war came Aug. 14, 1945, hut Tom didn't arrive home until October. He spent much of the next year undergoing surgery and other health care at a military hospital in Denver…
B. Vern Bullock and his wife Clara visited Corregidor in 1969 on a sentimental journey to the battle-scarred scenes where Tom had fought…
In case you don't already know, Tom and Frances' son Thomas S. II of Bountiful is a much-decorated veteran of the Vietnam War.
Did Tom hold bitterness in his heart for his POW ordeal? Boorman said he harbored no ill-will, and told this story as part of his tribute:
During his career as a project engineer at Geneva Works, Bullock was assigned as tour guide for some visiting Japanese business-industrial people. While introducing himself to the visitors, he smiled and said, "I was a guest of the Japanese emperor for over three years during World War II."