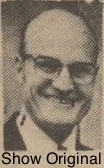 Alpine School District's proposed $12 million bond election, slated Oct. 4., raises some questions for the citizenry and school board to ponder.
Apparently the money is needed, or will be needed as bonding capacity increases, judging by the superintendent's report of population growth.
Priorities have been established for new elementary schools in Orem and American Fork and an addition to the Valley View Elementary at Pleasant Grove.
The growth figures from 1970 to 1973 show: American Fork, 8.11 per cent; Alpine, 10.59 per cent; Pleasant Grove, 6.33 per cent; Lehi, 5.85 per cent; and Provo-Orem area, 4.95 per cent with most of this increase in Orem.
But the election plans, approved at the school board meeting last week, prompt these questions:
– Why must the district go to the expense of holding a special election when voters in every community will be going to the polls anyway three weeks later (Nov. 4) for municipal elections?
Is it right to ask voter approval of $12 million in bonds – which would extend bonding authorization several years into the future – when Alpine District currently has only $1,010,000 bonding capacity?
Under the law, a district may bond up to 13 1/3 per cent of its assessed valuation. Last July 1, according to figures presented at the meeting, Alpine District's projected assessed valuation was $111,000,000.
Present bonded indebtness is $13,790,000. Bonding capacity will approximate $14,800,000 under the new valuation. An $890,000 bond retirement payment is scheduled in March 1976, after which the district will be able to sell $1,900,000 bonds.
That still is a far cry from the $12 million bond authorization the district is planning to seek at the fall election. The idea of such a figure, we presume, would be to get advance voter approval so that bonds could be issued in the immediate years ahead without going back to the voters each time.
But is asking approval for future bonding of such a dimension wise? Wouldn't it be fairer to the voters to bond for less and allow them periodically to return to the polls to vote under the conditions that exist at the time?
Re: the election date. School and bonding house people sometimes seem to feel a special election is best, with better chance for passage. But in a small vote, it is easier also for special interest groups (con as well as pro) to influence the outcome.