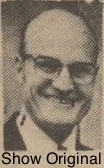 A friend suggested I do a column on American First Ladies patterned after my Presidential quiz of a few months ago.
Why not?
We ought to know more about the wives of our presidents. I have been impressed with this thought ever since my family viewed the statued models of the First Ladies at the Smithsonian institution during a visit to Washington several years ago.
Let's have 20 numbered questions. I suggest you take the quiz before checking the answers in the last part of the column.
1. What first lady was the wife of one president and the mother of another?
2. What first lady was appointed a delegate to the United Nations after her husband's death?
3. Who was the first lady at the time the British burned the White House during the War of 1812 – the one who fled with a bag full of state papers and the Stuart portrait of George Washington?
4. Which first lady asked the Marine Band to play "Hail to the Chief" whenever her husband appeared?
5. Which one served as confidential secretary to her husband, the first woman to hold the post?
6. Who became the bride of the first president to be married in the White House?
7. Who was the first first lady to live in the White House?
8. Which first lady, though wife of one of president and grandmother of another, never lived in the White House?
9. Who donated her own picture, thus starting the first-ladies portrait collection in the White House?
10. What first lady wrote a newspaper column known as "My Day"?
11. Historians say the romance of one first lady and her husband-to-be started when they were five years old. Who was she?
12. What first lady personally answered thousands of letters of sympathy when her husband was recovering from a heart attack?
13. Which first lady started the White House china collection?
14. Who was the first first lady to get a college degree?
15. Who was the first one to hire a social secretary?
16. Initials of what first lady were the same as her husband's and their two daughters?
17. What first lady was credited with helping to manage her husbands political career as astutely as she had managed his newspaper for 14 years?
18. One first lady said she kept herself as busy as a bee, cheerful as a cricket and steady as a clock. Who was she?
19. Who was the first first lady to put a library in the White House?
20. Who was the first first lady to he called first lady?
ANSWERS:
1. Abigail Adams. (John and John Quincy Adams).
2. Eleanor Roosevelt.
3. Dolley Madison.
4. Julia Tyler.
5. Sarah Polk.
6. Frances Folsom Cleveland.
7. Abigail Adams.
8. Anna Harrison, wife of President William Henry Harrison and grandmother of President Benjamin Harrison. Illness prevented her from accompanying Mr husband from Ohio to Washington for his inauguration in 1841. He died a month after taking office.
9. Julia Tyler.
10. Eleanor Roosevelt.
11. Bess Truman.
12. Mamie Eisenhower.
13. Caroline Harrison.
14. Lucy Hayes.
15. Edith Roosevelt.
16 Lady Bird Johnson.
17. Florence Harding.
18. Martha Washington.
19. Abigail Fillmore.
20. Lucy Hayes.