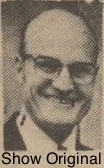 Grover Cleveland, who was born 147 years ago on March 18, holds two unique distinctions among American presidents:
He was the only president to serve two non-consecutive terms (1885-89 and 1893-97) and the only president married in the White House.
Cleveland, previously mayor of Buffalo and governor of New York, was elected the 22nd president in 1884 – a century ago – over Republican James G. Blaine. He was the first Democrat to win the presidency since James Buchanan just before the Civil War.
Still a bachelor at 48, the 250-pound Cleveland married beautiful Frances Folsom, 22, on June 2, 1886. He had known her since she was a baby.
He was renominated in 1888 and polled 90,000 more votes than the Republican candidate, Benjamin Harrison. But Harrison won with 223 electoral votes to Cleveland's 168 and became the 23rd president.
It is said that the young Mrs. Cleveland, upon taking leave of a White House servant, stated: "l want to find everything just as it is now when we come back again."
True to his wife's forecast, Cleveland won the Democratic nomination again in 1892 and defeated Harrison in November.
Afterward. confusion developed over listing the number of presidents. Was Cleveland now the 24th chief executive or still the 22nd? Or both?
In 1950, editors of the Congressional Directory decided to count Cleveland as the 24th president in his second term. William McKinley thereby became the 25th president, and so on.
The tradition continues today and Ronald Reagan is officially listed as the 40th president, although only 38 men have held the office, explained by Cleveland's double listing.