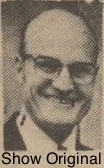 George Washington had some rather famous false teeth, made in a day when prosthodontia still was in its early stages of development.
But the dentures were not made of wood as many have believed. "No such thing," says the librarian at Mount Vernon, the first presidents historic home on the Potomac. "I just don't know where the rumor got started."
The interesting story of Washington's dentures was propelled into the spotlight when the most famous of the still-existing sets of his teeth – made of ivory and gold – was reported missing June 19, 1981 from a locked storage room of the Smithsonian Institution's National Museum of American History.
Less than a year later – on May 3, 1982 – a Smithsonian employee found the lower or mandibular part in a storeroom drawer, returned as mysteriously as the set had been stolen. The uppers (maxillary) with their gold palate and spiral springs are still missing despite FBI efforts. Museum officials speculate the culprit may have retained this part of the artifact because of the gold's value trifling compared to the historic value of the relic.
The set was fashioned in 1795 by John Greenwood of New York, the president's favorite dentist.
Dr. Reidar F. Sognnaes, dean of the School of Dentistry at University of California at Los Angeles, wrote in the Journal of American Dental Association in February of 1983 that the Greenwood family donated the artificial teeth to the Baltimore Dental College which loaned them to Smithsonian in 1966.
I became interested in writing this column which my dentist, Dr, J. Craig Ord of Provo recently told me some facts about Washington's teeth and mentioned the illustrated JADA article by Sognnaes.
After reading the article I phoned Mary Dyer, public affairs officer for the National Museum of American History who graciously sent clippings about the dentures, the theft, and the return of the lower plate.
There are three other known sets of Washington's dentures:
One, also made of ivory and perhaps a few human teeth, is stored at Mount Vernon. That set is thought to have been carved by Charles Wilson Peele, the noted artist who painted several portraits of Washington.
Another set is at the Medical College at the University of London, and a third is thought to be somewhere in South America.
None, said the Mount Vernon librarian, is made of wood.
Sognnaes, an authority on dental relics attributed to Washington, recreated the original set in the material and manner in which it was made nearly two centuries ago and exhibited it at Smithsonian during commemoration of the first president's 250th birthday Feb. 22, 1982.
In his own search for Washington's dental relics, Sognnaes found no wooden dentures, but he had this to say:
"One mandibular denture contained six wooden fastening pegs (also in the stolen set), the only form of wood I have been able to identify."
The denture materials, according to Sognnaes, were mostly of animal origin – "hippopotamus canines, elephant tusks, a walrus canine, and worn incisor teeth from cattle mandibles." Various metalic materials also went into fabrication of the dentures, including gold, lead and iron.
"Considering the anatomical nature and obvious functional inadequacies of his dentures, it seems that President Washington must have suffered untold dental discomfort, pain, and other distractions," Sognnaes wrote.
"His artificial dental anatomy also must have had an influence on his speech … Self-conscious in public, he was continually faced with the danger of a humiliating dental disaster. He could hardly have survived the merciless orofacial scrutiny of today's political TV debates."
It's a sad fact that when someone steals from a museum, a piece of history is gone. In the Smithsonian theft, some shameless scoundrel stole something of little intrinsic value to him but which represented a priceless bit of historical treasure related to a man pre-eminent among history's heroes.