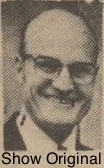 By N.L. CHRISTENSEN
Editor Emeritus
A World War II Air Force pilot from Provo has concluded a 10,000-mile odyssey to a Great Britain reunion of his wartime outfit, the 94th Bomb Group, 8th AAF.
Simon K. Benson, former teacher now a bus driver for Provo School District, was one of 200 members who gathered at Bury St. Edmunds, near Cambridge, home of the Rougham Air Base where the group was stationed during the war.
"It was an exciting reunion," said Benson, co-pilot of a B-17 bomber crew during the struggle to defeat Nazi Germany and its allies. He was the only Utahn to attend.
Three members of Simon's nine-man plane crew were present. The week's activities were sponsored by the 94th Bomb Group Memorial Association.
Several events honored members of the Group who lost their lives during War II or have died since. Especially touching, Benson said, was a memorial service at the St. Mary's Cathedral.
A memorial marker in the Appleby Rose Garden honors the 94th Bomb Groups war dead.
The mayor of Bury St. Edmunds hosted a banquet-reception. The war veterans, many accompanied by their wives, visited the NATO Air Base, the Battle of Britain Museum, and other points of interest in England. Some toured parts of France.
Perhaps the most colorful event was the "Battle of Britain Day" parade held at mid-reunion, followed by an air show by the Royal Air Force, Simon noted.
One of Benson's most emotional experiences was his visit to the American Military Cemetery near Cambridge. "White crosses marked the graves of 3811 U.S. servicemen from bases in Britain. On the memorial walls are inscribed names of 5,125 who lie in unknown graves."
The Provoan flew out of Los Angeles to the reunion to travel with two wartime buddies. "My wife didn't make the trip, but she and the children insisted I go," he stated.
Benson and others of his B-17 crew received the Air Medal during the war for "meritorious achievement" while on a heavy bombardment mission to Brandenburg, Germany in April 1945.
After the crew had dropped its bombs, the aircraft was severely damaged and set afire by flak. Benson helped fight the fire then took over the controls while the pilot devoted his full attention to smothering the flames.
Stated the citation: "He then capably assisted the pilot in keeping the crippled bomber in formation on the long return journey and in effecting a safe landing. The courage, coolness and skill displayed by Lieutenant Benson reflects the highest credit upon himself and the Army Air Forces."
Simon had the opportunity during his recent reunion trip to visit with some Provo people in England including President Harold Goodman of the London LDS Mission and George and Olive Osmond at the London Chapel visitors center.