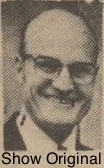 It's Thanksgiving Day – and Americans throughout the world will pause to express thanks and commemorate the occasion in traditional U.S. style.
In recent times, the enlargement of the Christmas shopping season has threatened to engulf Thanksgiving. Indeed, Yule decorations often are in place and Santa Claus has made his initial bow well before the holiday of thanks arrives.
Here in Central Utah, some of the communities will be having their grand pre-Christmas parades tomorrow. Provo and Orem, the two largest cities in the area, will lead out in this.
Yet – despite rushing of the yuletide – Thanksgiving somehow seems not only to survive but to remain a cherished day to Americans everywhere. It's a day of family get-togethers, of feasting, and of expressing thanks for blessings.
Although we usually consider Thanksgiving as truly an American holiday, history indicates that European and Asiatic nations often set aside special days to give thanks for a military victory or some other blessing. When the Spanish Armada was defeated in 1588, thanksgiving services were held in English churches.
The best-known Thanksgiving in America was held by the Pilgrims in the autumn of 1621 in Plymouth, Mass. The pilgrims' first year in the new country had been difficult. Half of the newcomers had died. In the spring they cleared the land and planted the fields. They worked hard all summer and in the fall there was an abundant harvest. Governor William Bradford proclaimed a day of thanksgiving. Indian friends were invited as guests. There were feasts… plus prayers of thanks, sermons, and songs of praise.
The Thanksgiving day idea gradually "caught on" in the colonies. During the Revolutionary War, several days for prayer and thanksgiving were announced by the Continental Congress. President George Washington proclaimed a day of thanksgiving for the adoption of the Constitution in 1789. President James Madison proclaimed a day of gratitude for peace at the end of the War of 1812.
In 1863 Abraham Lincoln named the last Thursday in November as the first national Thanksgiving Day… and the observance has been held on that date most of the time since.
This year, as always, there are many blessings to acknowledge. Generally we are at peace in the world – although there are pockets of unrest, of course. There is still want and suffering… and in some areas of the globe people are going hungry. Here at home there are shortages. The energy crisis continues. No solid solution has been found for the inflation spiral.
Despite these and other problems we encounter as a nation and as individuals, there's much cause for gratitude… and of happiness and hope on this Thanksgiving Day 1975.