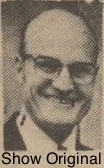 Utah County shares one of the touching stories of the Vietnam War – the sacrifice and long wait of families of men "missing in action."
Families of six missing Air Force and Marine Corps men reside here. Two of the men are missing in North Vietnam, two in South Vietnam, and two in Laos.
None of the six has turned up on prisoner of war lists. But in most cases, wives, children and parents still cling to hopes their loved ones will return.
'They have no real assurance except their faith. The government has not led Americans to expect additional POW lists – but indicated it believes some "MIAs" still live in announcing plans Saturday for an organized search for them in Vietnam. The "National league of Families for POWs and MIAs in Southeast Asia" is pressing for a full accounting of all missing men.
(The list from North Vietnam and the Viet Cong released to the United States included 562 military men and 23 civilians to be repatriated; and 55 military personnel and 6 civilians acknowledged as deceased. Two men earlier listed as killed in action were on the POW list. Fifty-three men previously considered by the U.S. to be POWs were not on either Communist List. A total of 1326 still were unaccounted for. In Laos, the Communists have released names of only a handful of men at this point.)
So, amid the uncertainty, life goes on and the Utah County families wait…as they have done for varying lengths of time ranging from 2 1/2 months to 7 1/2 years.
The missing men whose families reside in Utah County are:
-Lt. Col. Don C. Wood, missing for more than seven years on a bombing mission over Laos. His wife Marilyn Faux Wood and six children reside in Provo.
-Major Franklin A. Caras, shot down over North Vietnam nearly six years ago. His wife Cathlene Carter Caras, and four children live in Benjamin; also his parents, Mr. and Mrs. Angel Caras.
-Master Gunnery Sgt. John F. Dingwall, missing in South Vietnam for more than 7 1/2 years. His wife Doris and one of two daughters reside in Orem.
-Capt. Robert Alan (Bob) Rex, shot down over laos just over four years ago. His wife Patricia Jeanine O'Malley Rex and two small daughters live in Provo.
-Capt. Clive G. Jeffs, whose plane went down in South Vietnam, two years ago. His step-parents, Mr. and Mrs. Stanley B. Johnson, are Pleasant Grove residents.
-Capt. Ralph Jim-Chipman, missing just 2 1/2 months in a flight over North Vietnam. His wife Susan Smith Chipman and two small sons reside in American Fork; also his parents. Mr. and Mrs. Curtis T. Chipman.
Another Utah County man, Capt. Lynn Kesler Powell of Provo, an Air Force pilot, was first declared missing after his F-105 Thunderchief was shot down over Hanoi Aug 21, 1967. But the government revised the listing in May 1971 to "killed in action."
Capt. Powell graduated with honors in the BYU AFROTC program. and trained at Williams AFB in Arizona and Nellis AFB before being sent to Japan and ultimately to Tahkli AFB, Thailand, for war combat duty.
He was the son of Ellen Neff Powell of Provo and the late Kesler T. Powell.
(Note: More than 40 Utah County servicemen are known (Continued on Page 10)