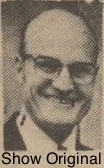 Amelia Earhart's ill-fated round-the-world flight attempt in 1937 and the long, fruitless search for her and her navigator has one of the most extensively-covered news stories of that era.
Tragic and still a mystery to a considerable extent, that episode and Earhart's many successful exploits will be remembered this week, 50th anniversary of the solo trans-Atlantic flight of the courageous and celebrated American aviatrix.
In 1928, she became the first woman to fly across the Atlantic as a passenger in an airplane piloted by William L. Stultz. That catapulted her into the public spotlight. She wrote a book on the experience and later married her publisher, George Putnam.
Earhart became a valid heroine May 20-21, 1932 – five years to the day after Col. Charles A Lindbergh's solo flight from New York to Paris – when she became the first woman to solo-fly the Atlantic.
She took off from Newfoundland in her Lockheed Vega monoplane. About 15 hours later she landed in a cow pasture outside Londonderry, Ireland after coping with storms, wing icing, and mechanical troubles.
Afterward Amelia – who was born in Atchison Kan. in 1897 and studied at Columbia after nursing wounded soldiers in World War I – was awarded the Distinguished Flying Cross the first American woman so honored before a joint session of Congress.
Three months after the Atlantic solo, Earhart established the women's non-stop transcontinental speed record from Los Angeles to Newark N. J.. flying the 2,448 miles in 19 hours and 5 minutes.
Less than a year later July 7, 1933 she lowered the mark to 17 hours, 7 minutes and 30 seconds.
Her next major feat came in January 1935 when she piloted her plane from Honolulu to Oakland in18 hours and 15 minutes to win a $10,000 prize posted by Hawaiian businessmen for the first person to fly the route alone.
There were other solo records, but her prime goal became a flight around the world. In mid-March 1937 she flew the first leg from Oakland to Hawaii in her two-engine Lockheed Electra. But a runway accident damaged her plane and stalled the flight.
Earhart, with Fred J. Noonan as navigator rescheduled the world trip and took off May 20, 1937, reversing the route and traveling west to east.
By June 30 when she reached Lae, New Guinea, she had refueled at such places as Puerto Rico, Brazil, French West Africa, Anglo-Egyptian Sudan, India, Singapore, Dutch East Indies and Australia. About 7,000 miles remained and the next hop of 2,550 miles was to take the fliers to the tiny Pacific isle of Howland.
The Electra took off July 2 but never reached the isle and newspaper headlines blared: "Lady Lindy Lost"; "Amelia's Plane Vanishes." The U. S. mounted a 17-day naval-air search at heavy cost.
The mystery didn't end with the "lost at sea" conclusion. In 1960 a private search for clues on what happened to Earhart and Noonan was launched after reports by natives of Saipan in the Mariana Islands told of seeing two American fliers one a woman, on that island in 1937. Descriptions seemed to fit Amelia and Noonan.
The six-year unofficial probe was sponsored by Columbia Broadcasting System, Scripps League Newspapers and Associated Press. Files of evidence were accumulated in four trips to the Pacific, visits in Washington D.C. and interviews with countless island natives and former GIs who had fought in the Pacific in World War II.
Fred Goerner, newsman for KCBS in San Francisco, detailed the investigation and his own key involvement in a book "The Search for Amelia Earhart," published by Doubleday and Co. of New York in 1966.
Fleet Admiral Chester W. Nimitz' encouragement helped and he confirmed that Earhart and her navigator went down in the Marshall Islands and were picked up by the Japanese in that pre-war period.
Most other government-military contacts were aloof or evasive. Goerner and Ross Game, then editor of the Napa Register, eventually had access to government classified files.
Goerner's conclusion in part, after sifting all evidence, was that Earhart and Noonan probably detoured on an unofficial reconnaissance mission over the Truk island complex where the Japanese had airfields and fleet-servicing facilities en route to Howland.
Low on gas and unable to sight Howland they crashlanded in shallow water in the Marshalls, which were mandated to Japan. Here, the investigators surmised, they were taken as captives to Saipan, then Japanese military headquarters in the Pacific and questioned as alleged spies.
The two American fliers, it was believed died on Saipan, she possibly of dysentery, after enduring intense questioning and severe hardships. The investigators devoted long and limitless efforts in an attempt to locate their graves.
Incidentally, two encyclopedias checked by this writer made no mention of the private investigation.
Goerner's closing tribute in his book included these words: "Because of people who dare to reach out like Earhart and Noonan, we now orbit men around our earth and turn our eyes to the stars and what lies beyond."