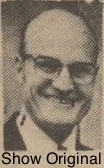 The figures are in from the Utah County Clerk's office…and the total vote of 59,471 in the county in the 1972 general election was indeed a record. But we mustn't pat ourselves on the back too enthusiastically until we examine the whole story.
The record total vote was NOT a record in the percentage of eligible voters who went to the polls Nov. 7. It wasn't even close to the record. According to the county clerk's figures, there were 77,926 registered voters, the list having been swollen by 17,794 new voters registered this year, many of them young people eligible for the first time.
The 59,471 who voted amounted slightly over 76 per cent of the total. Now 76 per cent is a good vote. lt's around 14 per cent higher than the national average in some election years. But have a look at these figures for Utah County in the previous three presidential elections: In 1960 when John F. Kennedy defeated Richard M. Nixon for the presidency, Utah County voters cast 42,909 ballots which the county clerk said represented over 90 per cent of the registered voters.
In 1964 when Lyndon B. Johnson defeated Barry Goldwater, the county had its peak year if records released at the time were correct. Of about 47,300 registered voters, 45,093 cast ballots, for an amazing 95 per cent.
In 1968 when Mr. Nixon defeated Hubert H. Humphrey, 49,532 of 61,894 registered voters went to the polls for a percentage of 80. The 76 per cent of 1972 was a good vote, as we've indicated. It's a lot higher than the figure in many other areas of the nation, and a figure of which we can be reasonably proud. Still room for improvement, of course, but three out of every four voters isn't bad.