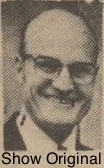 It was democracy in action at the local level, as 216 cities and towns of Utah chose officers in Tuesday's municipal election. This was an election that belonged to the communities, independent from nationally-oriented campaign oratory and issues. The people were voting for and against candidates they knew, so to speak, and the issues centered about the communities and how to make life at home more economical and enriching.
As usual in municipal elections, voting generally was far lighter than in national elections, where the fanfare of big names and the party politics keep the turnstiles at the polls clicking. Provo, the only city of the second class in the Utah County, recorded a 31 per cent vote. That meant 69 per cent of the voters stayed home, entrusting the decision-making to a minority, number-wise.
Orem had a 35 per cent turnout. The vote varied. There were some very high spots. Santaquin's mobile home issue helped produce a heavy vote there; Nephi came through with a 70 per cent vote; and the small town of Cedar Fort reported a 90 per cent tumout.
Provo voters chose to elect a new city commissioner, J. Earl Wignall, who will succeed M. Wayne Hillier, the defeated incumbent hard-working commissioner who is completing two years in the post by appointment. H. Blaine Hall was elected to his third term as city auditor by a comfortable margin over Stanley C. DeFriez.
Provo voters obviously saw the necessity of the proposed sewage disposal plant expansion and a good thing in the three-fourths funding by the federal govemment as they passed a $5 million bond authorization by a margin of better than 3 to 1. Orem, second largest city in Utah County, elected a split ticket with Glen Zimmerman and Lee Bamgartner named councilmen from the Citizens Party and Wayne Watson from the People's Party. Mr. Zimmerman was re-elected; the other two are new on the council. A present councilman LeRoy Walker lost his bid for reelection. A long-time city Judge Hugh Vern Wentz also lost a re-election effort to Joseph I. Dimick.
In other cities there were ticket-splitting, party sweeps, upsets, and interesting surprises. Nephi's election produced more news than merely the 70 per cent turnout as the voters upset the all-Republican city council by electing three Democrats. Springville citizens decided to go ahead with issuance of a $450,000 bond for a municipal swimming pool – but by a margin of only 46 votes. Santaquin voters revolved their hot issue and suprised a lot of onlookers by approving a new law allowing mobile homes to be built on any lot in the city provided land, building code,and zoning regulations are complied with. Withal, it was an interesting election and with results that are highly important because they are local and have a direct bearing on the citizens at the grass roots.