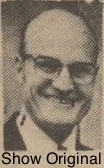 Byron E. Jensen, 60, first vice president of the Scripps League of newspapers and publisher of The Daily Herald, died Saturday in Provo of heart failure.
He was born in Ogden Sept. 3, 1925, the son of Parley and Margaret Jensen. He married Nanette Christensen June 11, 1950 in Elko, Nev.
He was named first vice president of Scripps League in March 1984. In that role, he supervised the publishers of more than 46 community newspapers stretched across the United States.
He was named publisher of the Daily Herald July 1, 1964 and remained in that position until his death.
Mr. Jensen served in Europe in World War II and completed two years of college before joining the advertising staff of the Pocatello Post in Pocatello, Idaho. He later worked on the advertising staff of the Ogden Standard-Examiner.
He first joined Scripps League in March 1953 and went to Kalispell, Mont. as advertising manager of the Kalispell Inter Lake. He was business manager of the Arizona Daily Sun in Flagstaff from 1957 through 1959. Jensen then became publisher of the Herald Journal in Logan, Utah. After five years there, he became publisher of The Daily Herald.
Mr. Jensen was a life member of the American Legion and a member of the Veterans of Foreign Wars, also of numerous civic groups. He had been president of the Utah Valley Industrial Development Association in 1970, served six years as a member of the Utah County Advisory Board of Commercial Security Bank and six years as a member of the board of directors of the Utah Manufacturers Association. He was state chairman of the Reporters Committee of Freedom of the Press in 1973.
Survivors include his wife in Provo three sons and one daughter: Christopher B. Jensen, Lake Tahoe, Nev.; Jeffrey P. Jensen, Seattle, Wash.; Michael G. Jensen, Springville; Patti Jensen of Provo, six grandchildren and one brother, Parley G. Jensen of Pocatello, Idaho.
Services will be Tuesday at 11 a.m. in Berg Drawing Room Chapel, 185 E. Center, Provo. Friends may call at the mortuary from 6-8 p.m. Monday or one hour prior to services Tuesday.
The family suggests contributions to the Utah Heart Association, 645 E. 400 S., Salt Lake City.