Beautification: You Bet!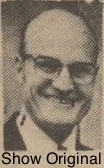 The city of Santaquin in southern Utah County has announced a cleanup and beautification campaign for May 3-10 to spruce up the community for the 1976 bicentennial.
Beautification drives are excellent and every city and town should have one. Keying the projects to the bicentennial is good also bit getting ready for '76 is going to require a continuing effort, maybe with a number of cleanup projects.
We comment Santaquin on being one of the early-bird cities to get plans going to beautification and urge others to follow the example.
Let's be ready in '76. In the meantime what we do now in improving the landscape – whether it be residential sections or the downtown districts – can enrich our living in the present and engender extra civic pride in everyone.
Cleanup and beautify – you bet! And don't spare the horses.
Hathaway Suited for Post
President Ford's reported choice of former Wyoming Governor Stanley K. Hathaway to succeed Rogers B. Morton as Secretary of the Interior would be a propitious one.
Hathaway served as governor of the plains state for eight years and could undoubtedly have been elected again had he chosen to continue in the office. When elected for his second term in 1970 the popular Republican carried all but one county in the state in an election which also saw Wyoming vote strongly to return a democrat, Gale McGee, to the Senate.
Hathaway would conform with the tradition of the country having a Secretary of the Interior from a western State.
In Wyoming more than half of the state is federal land. Hence a governor is more acutely aware of the problems of the Interior Department, than would be one from the Eastern seaboard, for instance.
In his eight years as governor, Hathaway was receiving practical schooling in the problems of the interior and particularly in the areas of development of natural resources, coupled with protection of the environment.
In addition to its agricultural side, Wyoming is a large oil producer and has vast deposits of low sulphur coal, which is most economically mined by the strip method, in most cases.
It also has large deposits of uranium, trona, low-grade iron ore and other minerals. It is uniquely a state in which the development of natural resources and the maintenance of a high-grade environment are daily facts of life.
Hathaway has had an intense education in these problems, which coupled with his record of being an excellent governor makes him superbly suited to this new assignment.